ফুল সিলেবাস কোর্সে যা যা থাকছে
Important topics to cover in order to prepare for various ministry job exams

How to assess the difficulty level of questions and answer them accordingly

How to develop essential skills for ministry job exams through model tests and practice
কোর্স সম্পর্কে বিস্তারিত
This course is for:

Undergraduate/graduate students who aim to pursue a career as a government employee.
Those who want to crack different ministry job exams
Those who are seeking accurate answers with appropriate explanations to questions from past years
Those who are aiming to improve their preparation by practicing questions from past years
About the course:

The demand for government jobs has increased a lot over the past few years, compared to any other job in the market. According to experts, job security and social status are the key reasons behind this. Ministry jobs can be an excellent career opportunity for the youth of Bangladesh, as the recruitment process is not as lengthy as BCS, Bank, or other traditional government job exams. From the Anti-Corruption Commission, CGDF to the different departments under the Prime Minister's Office, there are a lot of job opportunities under different ministries. And in order to help you prepare yourself for these recruitment exams by analyzing questions from past years, 10 Minute Schools brings to you the 'মিনিস্ট্রি জবস প্রশ্ন সমাধান + মডেল টেস্ট' free course.

Ministry job recruitment exams are a little different from traditional government job exams. Candidates are likely to more successful in these exams if they can identify the important topics from Bangla, English, General Mathematics, and ICT and focus more on them. There is no alternative to solving questions from past years in order to be able to identify these topics. This free course contains correct answers and explanations to different ministry job exam questions that have appeared in the past. This course also offers model tests to help you solidify your exam preparation. Enroll in this free course today to stay a step ahead of others in ministry job recruitment exams.
যেভাবে পেমেন্ট করবেন
কোর্সটির নিচে দেয়া "প্রোগ্রামটি কিনুন" বাটনটিতে ক্লিক করলে আপনার পেমেন্ট প্রক্রিয়া শুরু হয়ে যাবে। পেমেন্ট সম্পর্কে বিস্তারিত জানতে এই ভিডিওটি দেখুন এই ভিডিওটি দেখুন
ক্লাস করার জন্য প্রয়োজন হবে
ইন্টারনেট সংযোগ (ওয়াইফাই বা মোবাইল ইন্টারনেট)

স্মার্টফোন অথবা পিসি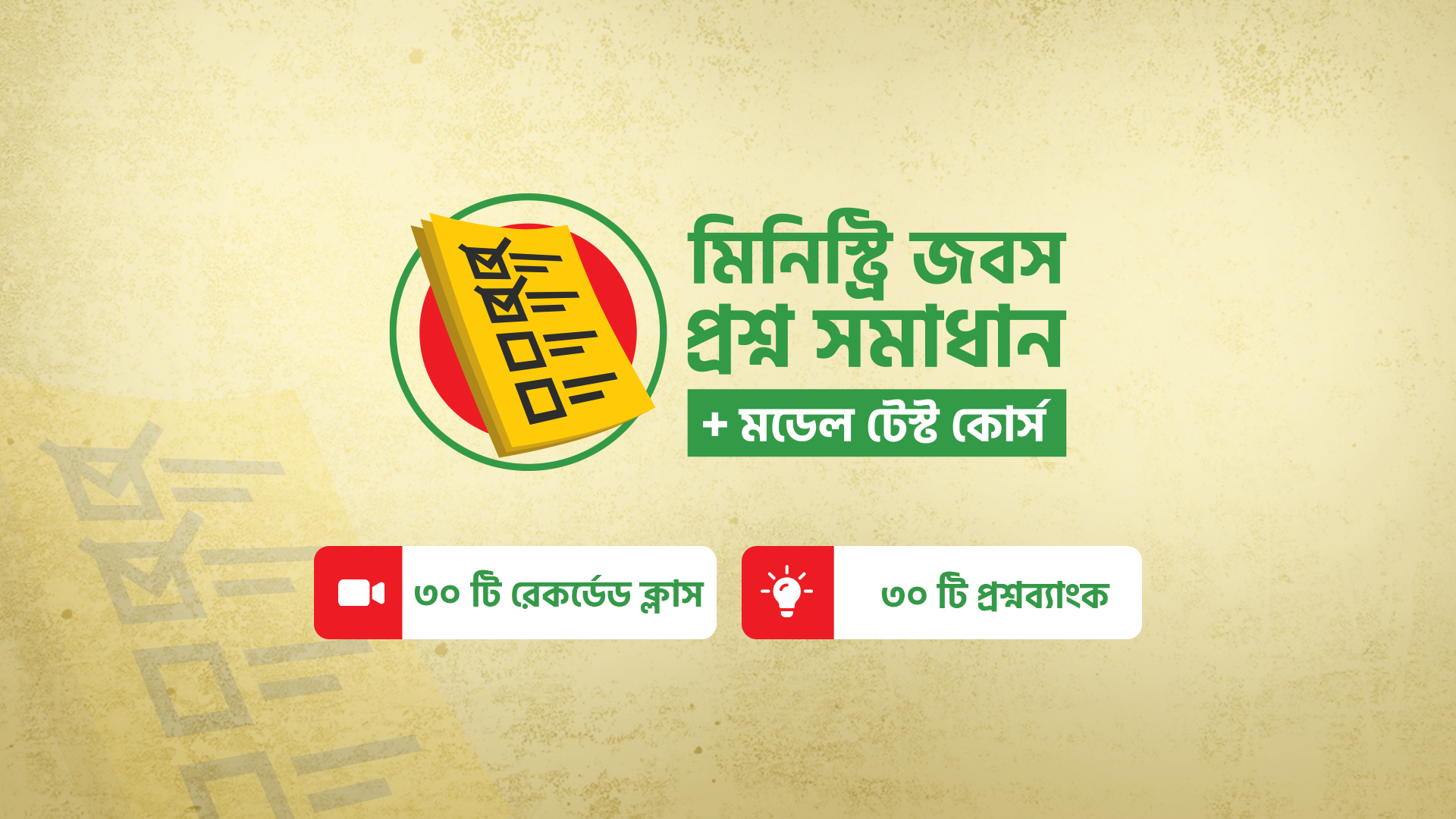 মিনিস্ট্রি জবস প্রশ্ন সমাধান + মডেল টেস্ট কোর্স
Find solutions and explanations to different ministry job recruitment exam questions from the past years in this one free course!
2638 Students

30 Classes

30 Slides

30 Question Bank