Improve your verbal, non-verbal and written communication skills to communicate effectively in your personal, social and professional life. Enroll now to learn from Tahsan Khan!
Course instructor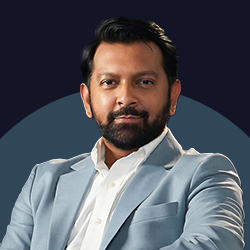 Singer, Musician, Actor & Teacher

Former Faculty Member, BRAC University & ULAB
What you will learn by doing the course
Strategies to become a smart communicator

Social media communication etiquette

Public place etiquette and manners

Professional communication in phone calls and online meetings

Presenting yourself in job interviews and communicating effectively

How to properly communicate in the workplace

How to approach successful people for building networks

Tips for improving your public-speaking skills
Course details
This 'Communication Masterclass by Tahsan Khan' course is for:

From students to professionals as well as business owners, Tahsan Khan's Communication Masterclass course is for anyone who wants to improve their communication skills and take it to the next level.
About this 'Communication Masterclass by Tahsan Khan' course:

Communication skill is one of the most important and widely sought soft skills in the current job market. It is crucial to communicate effectively in online and offline settings for getting the best outcome from every situation. Hence, to enable students and professionals to improve their communication skills, we designed this course with the best communication strategies.

Tahsan Khan is one of the most popular personalities in Bangladesh - owing to his amazing singing and acting. But he has another identity- he has taught communication in several top universities in Bangladesh for the past 12 years. So, not just as singer Tahsan, but also as the former faculty member of BRAC University, Tahsan Khan will guide you through the journey of improving your communication skills, catering to learners of all ages. With his years of experience of being a public personality and a teacher, Tahsan Khan has prepared every lecture on communication sharing his best advice. Aside from verbal communication, this course will help you refine your written communication skills, identify your strengths and weaknesses and also guide you on how to receive and share feedback from others. This course will guide you to become a smart communicator and communicate effectively in personal, social, digital and professional environments. Incorporating the teachings of this course will help flourish your personality and excel in your career. Enroll in the 'Communication Masterclass by Tahsan Khan' course today to communicate confidently with the world around you!
Course certificate
কোর্সটি সফলভাবে শেষ করলে আপনার জন্য আছে সার্টিফিকেট যা আপনি-
আপনার সিভিতে যোগ করতে পারবেন

লিংকডইন প্রোফাইলে সরাসরি শেয়ার করতে পারবেন

ফেসবুকে এক ক্লিকেই শেয়ার করতে পারবেন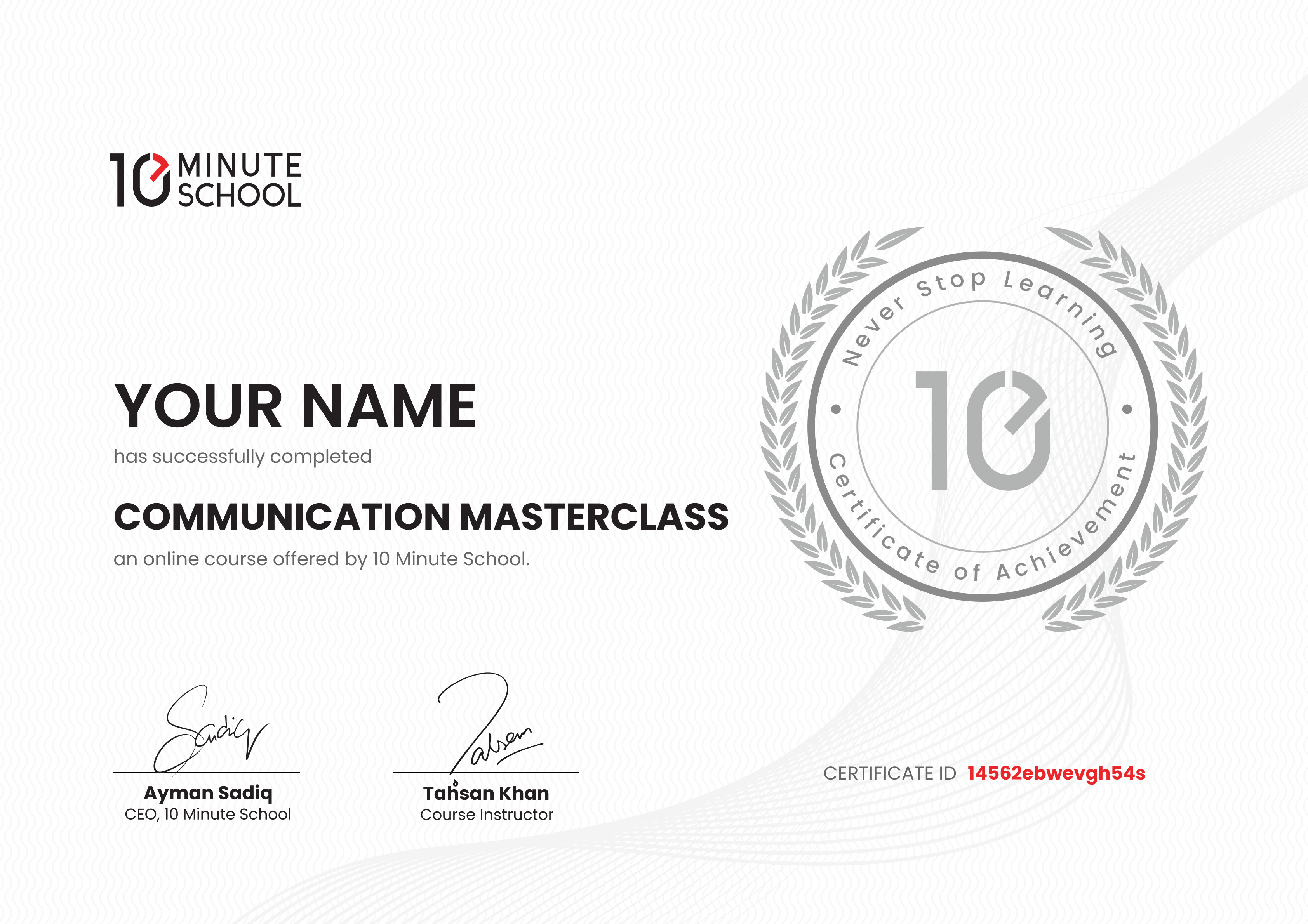 Course details
ইন্টারনেট সংযোগ (ওয়াইফাই বা মোবাইল ইন্টারনেট)

স্মার্টফোন অথবা পিসি
Payment process
কীভাবে পেমেন্ট করবেন তা বিস্তারিত জানতে এই ভিডিওটি দেখুন
Communication Masterclass by Tahsan Khan

Total Enrolled 6482

Time Required 7 hours

28 Videos

9 set Quiz

30 Notes

Validity 6 Months
2015 - 2023 Copyright © 10 Minute School. All rights reserved.