There is no alternative to social media marketing and SEO in order to help grow a business in this day and age. Aside from this, these skills can also help you build an online freelancing career. Enroll in our Digital Marketing Bundle today to learn Facebook marketing and SEO from the comfort of your home.
Course instructors
Founder & CEO, 10 Minute School
Forbes 30 Under 30;
Queen's Young Leader;
Bestselling Author
Md Faruk Khan
Organic SEO Expert;
Founder & CEO, Khan IT
Education Content Creator;
Digital Media Strategist;
Author, 10 Minute School
What you will learn by doing the course
Tips to increase the sales of your business on Facebook and make it stand out as a strong brand

How to rank your website or blog in Google search, and increase its organic traffic

Usage of various important features of Facebook, such as Facebook Pages, Facebook Groups, increasing organic reach, Facebook Boosting, and Advertising through Facebook Ads

Basics of SEO, including how search engines work, domain-hosting, keyword research, On-page SEO, and Off-page SEO
Course details
This Digital Marketing Course bundle is for:

Those who want to learn Social Media Marketing (SMM) and Search Engine Optimization (SEO) and earn through it
Those who want to increase the reach of Facebook posts, Facebook page, Facebook groups, and website through paid and unpaid advertisements
Those who are interested in creating content as well as brand identity
Those who want to learn digital marketing through real-life projects
About the Digital Marketing Course bundle:

SEO and Facebook marketing account for a large portion of the global digital marketing industry. In Bangladesh, Facebook has the highest number of users among all the social media platforms and Google is the number one choice for all web browsers. Proper Facebook marketing can help multiply the number of customers and adopting the best SEO practices can bring in tons of organic traffic from Google search.

Suppose you own a business and sell your products through Facebook or your website. Or you might want to write blogs and earn from them through Google Ads. You may also be interested to learn Social Media Marketing and establish yourself as a skilled online freelancer. You could be a student or a fresh graduate who wants to learn digital marketing but have no idea where to start. To help you start your journey, 10 Minute School brings to you the "Digital Marketing Bundle" course, with an updated curriculum, convenient online classes, and project-based practical learning.

In this course bundle, you will learn content creation, ad creation, organic marketing as well as branding from two experts Ayman Sadiq and Sadman Sadik in the Facebook marketing section. Aside from this, you will also learn the basics of On-page SEO, Off-page SEO, keyword research, and much more from industry expert Md Faruk Khan, in the SEO section. Enroll in this course bundle today to start your journey of becoming a digital marketing expert!
Course certificates
কোর্সটি সফলভাবে শেষ করলে আপনার জন্য আছে সার্টিফিকেট যা আপনি-
আপনার সিভিতে যোগ করতে পারবেন

লিংকডইন প্রোফাইলে সরাসরি শেয়ার করতে পারবেন

ফেসবুকে এক ক্লিকেই শেয়ার করতে পারবেন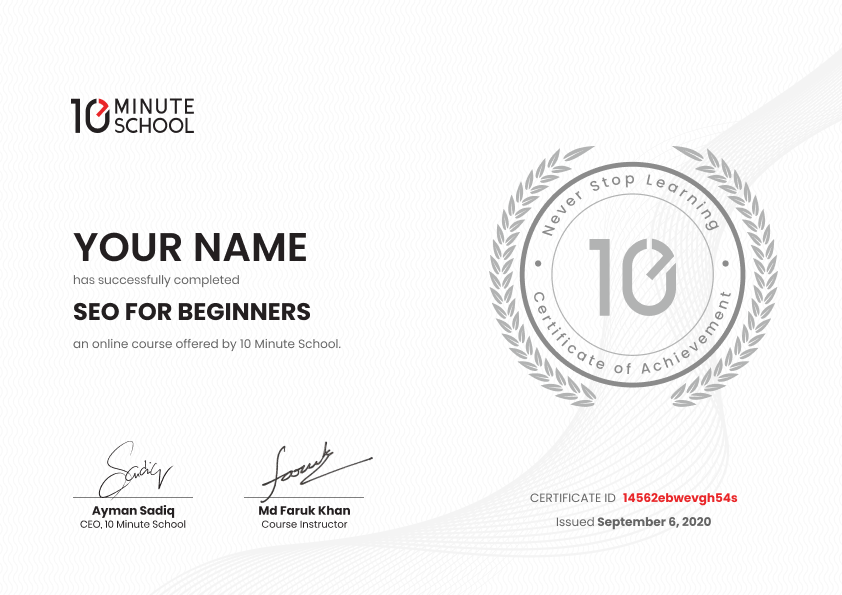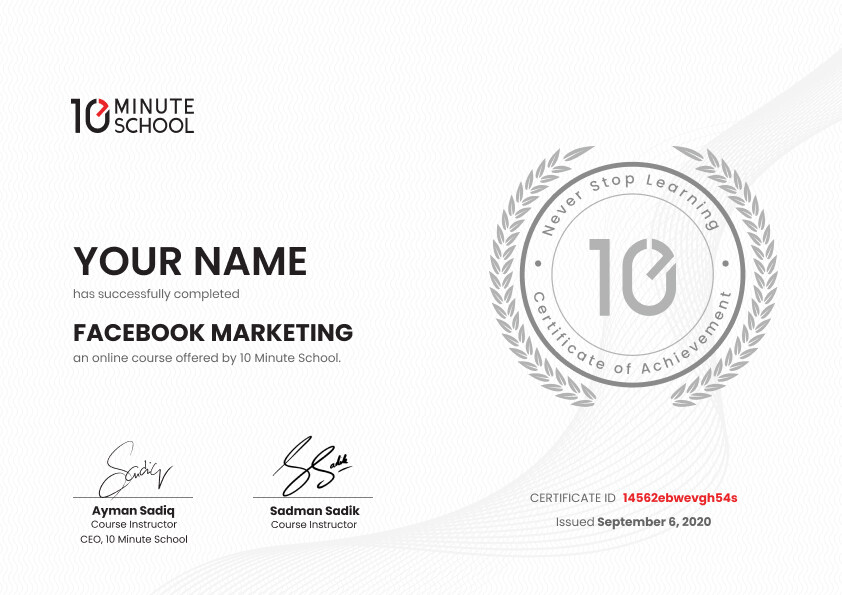 Course details
ইন্টারনেট সংযোগ (ওয়াইফাই বা মোবাইল ইন্টারনেট)

স্মার্টফোন অথবা পিসি
Payment process
কীভাবে পেমেন্ট করবেন তা বিস্তারিত জানতে এই ভিডিওটি দেখুন
ডিজিটাল মার্কেটিং বান্ডেল

Total Enrolled 550

Time Required 32 hours

77 Videos

13 set Quiz

36 Notes
2015 - 2023 Copyright © 10 Minute School. All rights reserved.