Learn how to acquire negotiation and leardership skills and exercise them in your personal and professional life. Build yourself up as a successful leader with our "Smart Leadership Bundle" course.
Course instructor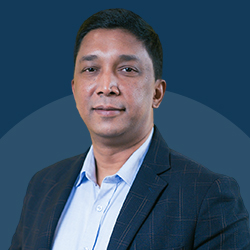 Ejazur Rahman
Managing Director & Lead Coach, Mind Mapper Bangladesh
What you will learn by doing the course
Understanding the mentality of your team members and encouraging them to achieve their goals

How to stay calm during adverse situations and lead your team

How to establish the importance of your opinion during a group discussion

Finding appropriate trade-offs for negotiation and using them to reach an agreement
Course details
This Smart Leadership Bundle course is for:

Those who are not getting their desired promotion due to the lack of leadership skills
Those who have to reach various decisions at their job through discussions
Those who have been recently appointed as a manager or a team leader and want to perform their duties with diligence
About the Smart Leadership Bundle course:

Many of us have a common belief that successful leaders are born with their charismatic qualities. Some of us think that leadership qualities are only essential for political and social purposes. In reality, leadership qualities are just as important for success in academics and career. And like all other skills, you can also acquire leadership skills through hard work and proper guidance.

Among the many qualities of a leader, some of the most important are being able to encourage others, understanding the way a person thinks and positively influencing them, tackling complex situations, and being able to reach an agreement through resolving conflicts. Aside from these, it is also important for leaders to be able to negotiate properly in order to reach the desired outcome.

Overall, it is very essential to have leadership skills in order to keep yourself ahead in this highly competitive era. And that is why, 10 Minute School brings to you the "Smart Leadership Bundle" course, to help you learn negotiation as well as other leadership skills. This course will enable you to learn essential negotiation techniques and leadership skills with step-by-step exercises and guides. Enroll in our "Smart leadership" bundle course today and build yourself up as a smart and successful leader.
Course certificates
কোর্সটি সফলভাবে শেষ করলে আপনার জন্য আছে সার্টিফিকেট যা আপনি-
আপনার সিভিতে যোগ করতে পারবেন

লিংকডইন প্রোফাইলে সরাসরি শেয়ার করতে পারবেন

ফেসবুকে এক ক্লিকেই শেয়ার করতে পারবেন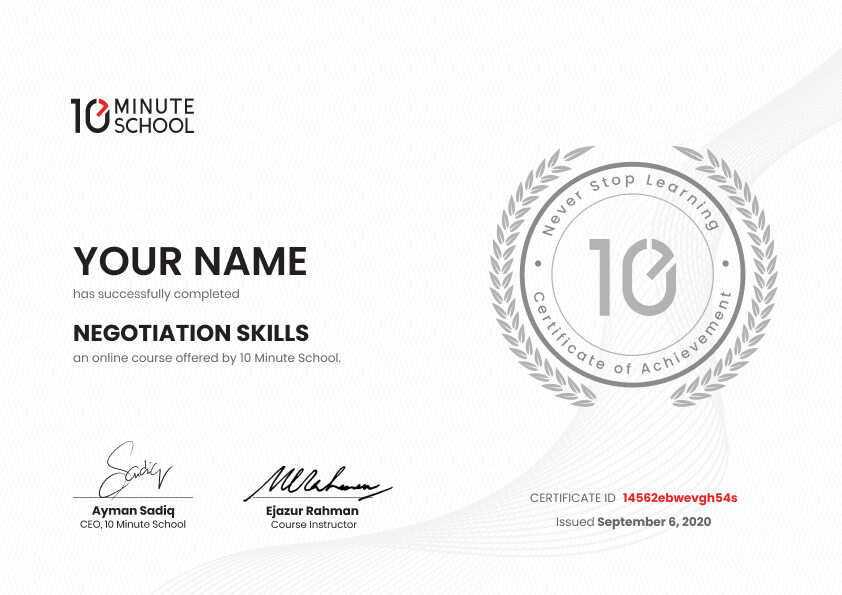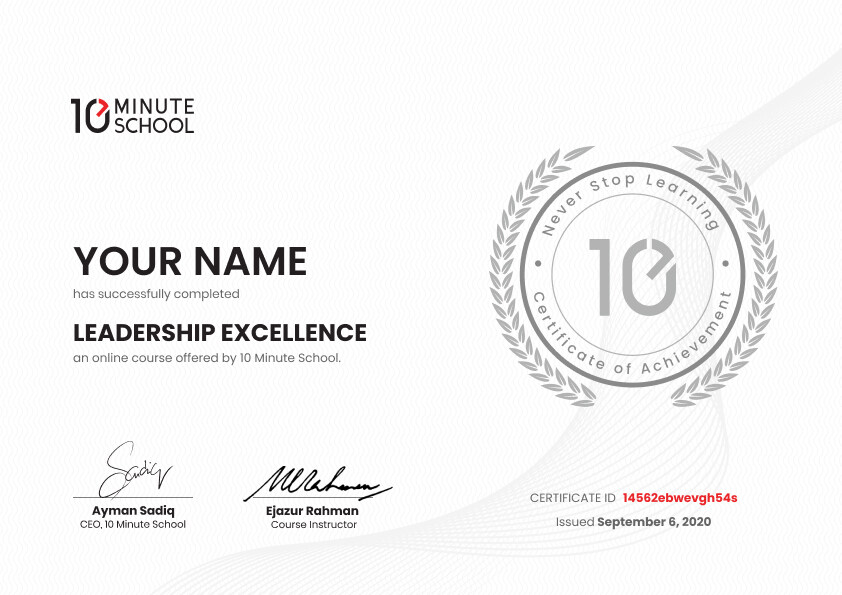 Course details
ইন্টারনেট সংযোগ (ওয়াইফাই বা মোবাইল ইন্টারনেট)

স্মার্টফোন অথবা পিসি
Payment process
কীভাবে পেমেন্ট করবেন তা বিস্তারিত জানতে এই ভিডিওটি দেখুন
Smart Leadership Bundle

Total Enrolled 121

Time Required 9 hours

33 Videos

6 set Quiz

18 Lecture Sheets
2015 - 2023 Copyright © 10 Minute School. All rights reserved.