Establish yourself as a successful digital media professional by learning how to use Adobe Illustrator, Photoshop, After Effects, and Premiere Pro.
Course instructors
Education Content Creator;
Digital Media Strategist;
Author, 10 Minute School
Ruhul Amin
Motion Graphics Designer;
Animator;
Founder & CEO, Binarilink
Mohammad Yeasir
Top Rated Illustrator, Concept Artist
Illustrator & Concept Artist, Founder of Spinxart
James Prince Barai
Content Creator at YouTube for 6+ Years
Satellite Communication Engineer, Jamuna TV
What you will learn by doing the course
Basic to intermediate-level functions of Adobe Illustrator, Photoshop, After Effects, and Premiere Pro

How to acquire practical graphic designing skills using Illustrator and Photoshop

Motion graphics and video editing using After Effects and Premiere Pro
Course details
This course is for:

Those who want to establish themselves as a successful media professional
Those who want to learn how to edit videos and master professional skills using Adobe Premiere Pro
Those who are interested to learn graphic design using Adobe Illustrator and Photoshop
Those who want to become a motion artist by learning how to use Adobe After Effects
About the course:

Adobe creative suite service is the number one choice of creative professionals all over the world. Adobe software are considered as the industry standard for graphic designing, video editing, animation, photography, and more. Thus, anyone interested to pursue a career in the creative sector should learn all the ins and outs of these software.

Graphic designing, video editing, and motion graphics are all more or less interrelated. A graphic designer has to seek help from a video editor or a motion artist in order to make their work look more lively. Similarly, a motion artist has to know the basics of graphic design to get their job done. The probability of getting a job also increases when both of these skills are acquired. Apart from traditional jobs, many young professionals are using these skills to work in freelancing marketplaces and earn from the comfort of their homes.

The biggest obstacle towards learning these software are their complex interface. Most of the premium resources available on these software are too expensive for the majority of us. Many find it difficult to understand English tutorials. Again, it is also difficult to get a complete picture of the local industry by watching foreign tutorials.

Hence, in order to help you acquire all the skills to become a successful media professional, 10 Minute School brings to you the "Adobe 4 in 1 Bundle" course. Stay a step ahead in your job or your freelancing career by learning four of the most demanding software of Adobe Creative Suit with this exclusive bundle.
Course certificates
কোর্সটি সফলভাবে শেষ করলে আপনার জন্য আছে সার্টিফিকেট যা আপনি-
আপনার সিভিতে যোগ করতে পারবেন

লিংকডইন প্রোফাইলে সরাসরি শেয়ার করতে পারবেন

ফেসবুকে এক ক্লিকেই শেয়ার করতে পারবেন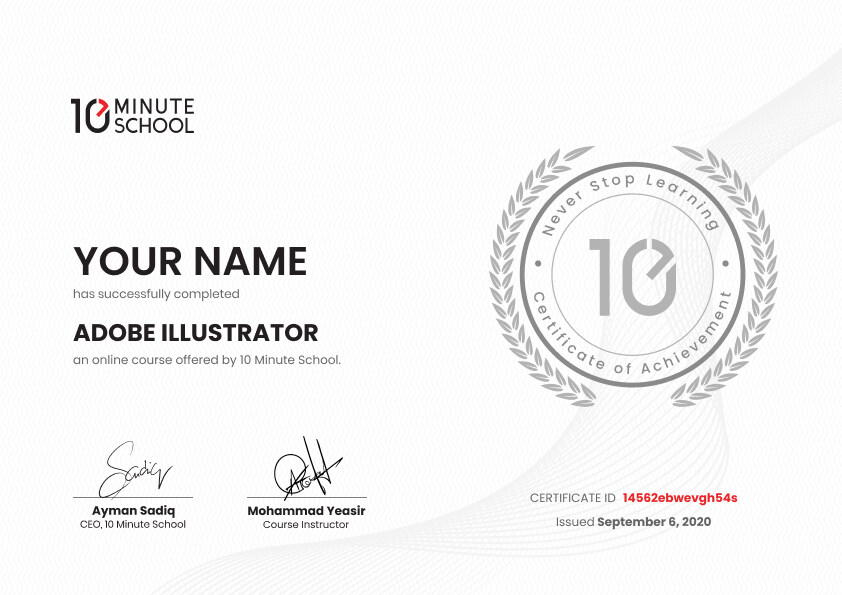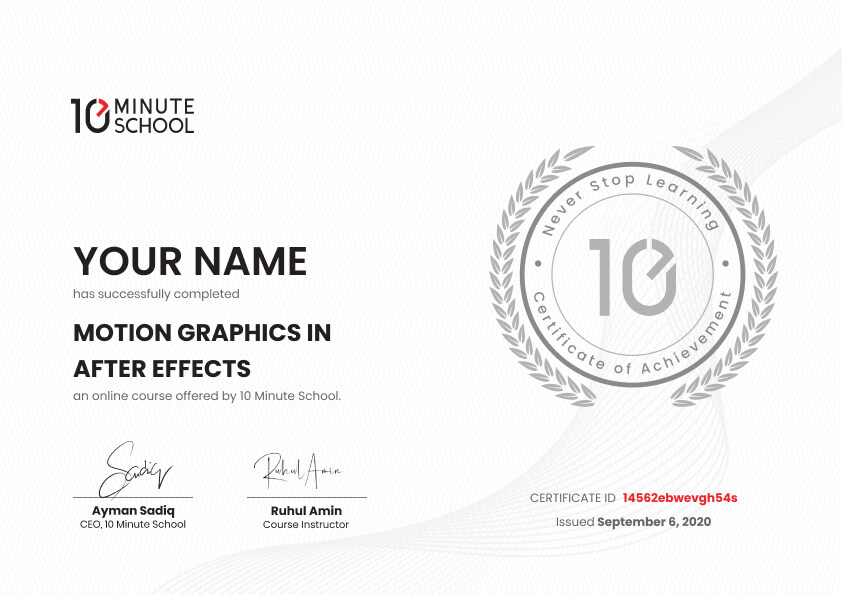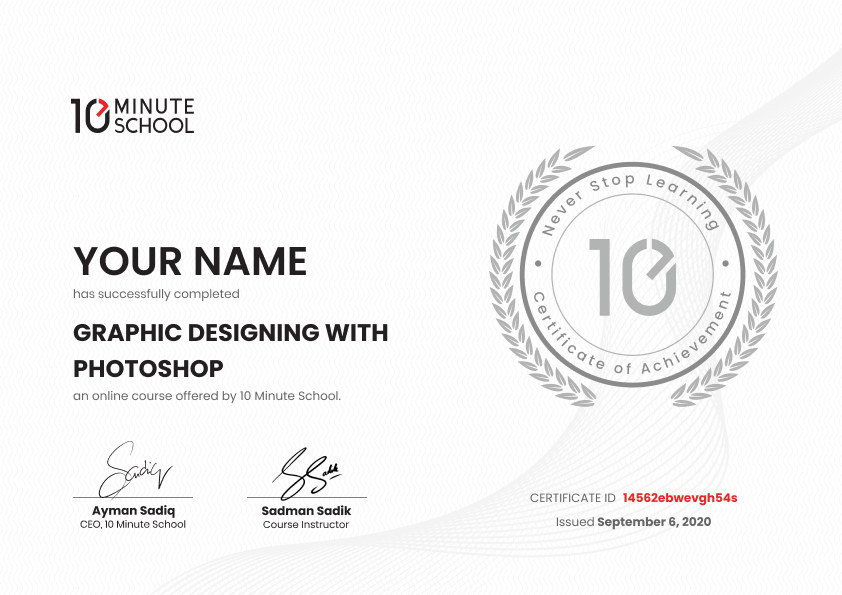 Course details
ইন্টারনেট সংযোগ (ওয়াইফাই বা মোবাইল ইন্টারনেট)

স্মার্টফোন অথবা পিসি
Payment process
কীভাবে পেমেন্ট করবেন তা বিস্তারিত জানতে এই ভিডিওটি দেখুন
Adobe 4 in 1 Bundle

Total Enrolled 253

Time Required 52 hours

184 Videos

90 Lecture Sheets
2015 - 2023 Copyright © 10 Minute School. All rights reserved.