Enroll in this free Bangla Debate course today to learn how to expand your network by speaking eloquently, present your arguments confidently in a debate, and become a successful debater.
What you will learn by doing the course
How to speak and present your arguments accurately

How to address and breakdown the motion of a debate, as well as present your rebuttals

Tips and tricks to win different formats of debate

How to expand your social network and learn how to better use your time through debate
Course details
This 'Bangla Debate' course is for:

Those who want to kick-start their debating journey
Those who aim to win different debate competitions
Those who want to overcome their fear of public speaking or presentation
Debaters who want to improve their debating skills
About the 'Bangla Debate' course:

A formal debate is all about tactically and systematically presenting your arguments either in favor of a topic or against it. It is quite hard to overstate the importance of formal debate in helping develop necessary life skills. Debating not only teaches you how to speak eloquently, but it also helps you learn how to become more confident, improve punctuality, and foster leadership qualities. It also helps one overcome their fear of public speaking and expand their social network.

Most people start their debating careers in school, college, or university. However, many of them fail to utilize their full potential due to the lack of adequate guidelines and practice. This course is designed to help you improve your performance and increase your personal as well as group achievements in debate. Instead of just focusing on how to win debate competitions, this course will guide you on how to become a better-skilled citizen through debate.

From taking preparation of a debate to presenting your arguments, this free course will teach you all the necessary strategies to improve your debating skills. Even if you have never participated in a formal debate before, this course will give you provide the necessary guidelines to start practicing. Enroll in this free 'বাংলা বিতর্ক' course today to learn debating from an experienced and skilled debater and continue your journey of upskilling yourself!
Course certificate
কোর্সটি সফলভাবে শেষ করলে আপনার জন্য আছে সার্টিফিকেট যা আপনি-
আপনার সিভিতে যোগ করতে পারবেন

লিংকডইন প্রোফাইলে সরাসরি শেয়ার করতে পারবেন

ফেসবুকে এক ক্লিকেই শেয়ার করতে পারবেন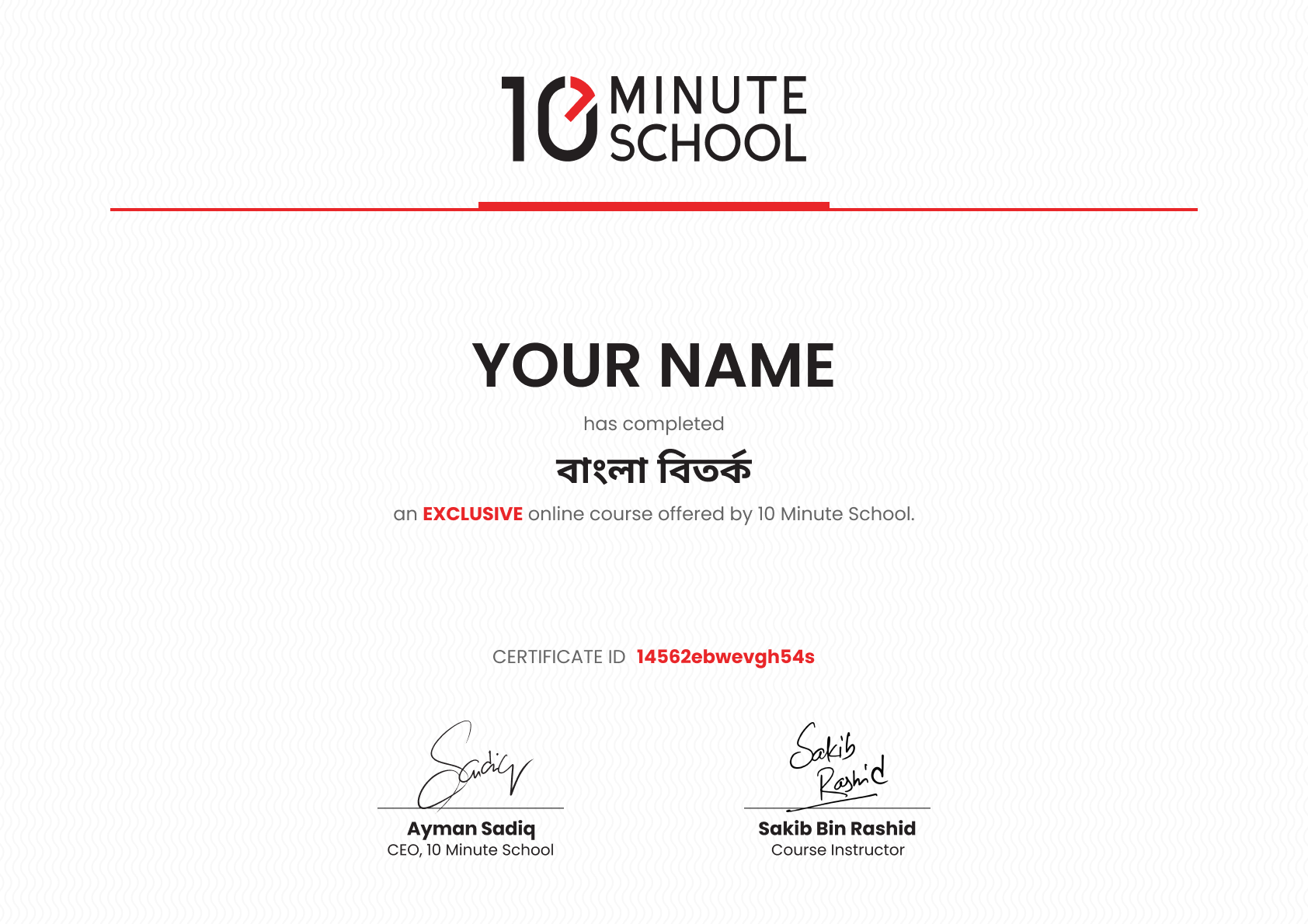 Course details
ইন্টারনেট সংযোগ (ওয়াইফাই বা মোবাইল ইন্টারনেট)

স্মার্টফোন অথবা পিসি
Payment process
কীভাবে পেমেন্ট করবেন তা বিস্তারিত জানতে এই ভিডিওটি দেখুন
বাংলা বিতর্ক

Total Enrolled 28661

Time Required 3 hours

17 Videos

Validity 6 Months
2015 - 2023 Copyright © 10 Minute School. All rights reserved.