Course instructor

Farabi Hafiz
Senior News Presenter, Channel 24
What you will learn by doing the course
Everything you need to know to become a professional news presenter

Audition and recruitment process for becoming a new presenter

From makeup to handling different adverse situations while on-air

Vocal Magic toolbox, newsroom structure and other technicalities associated with news presentation
Course details
This News Presentation Course is for:

Those who want to pursue their career as a new presenter
Those who wish to master the art of news presentation alongside their studies or job
Those who are interested in working in television, radio, and other electronic media
Those who want to improve their fluency and overall presentation skills
About the News Presentation Course:

In the era of mass media, the profession of news presentation is both very popular and well respected among the general people. Both the number of TV channels, as well as online media is gradually increasing, which is also leading to an increase in demand for news presenters. It would be difficult to find a person who has not once thought of becoming a new presenter, after watching a smartly delivered news presentation on their television. However, due to the lack of proper guidelines, only a few are able to pursue this dream.

It takes a lot of preparation, determination, and practice to help shape this dream into a reality. In order to help make this journey easier, 10 Minute School brings to you the "News Presentation course", designed to guide you toward becoming a successful news presenter from the comfort of your home. This course will help you become a smart news presenter by helping you overcome your difficulties in speaking fluently, as well as boosting your confidence. It will help you understand the ins and outs of news presentations, including the different activities inside the newsroom, the technologies involved, how to tackle adverse situations, how to maintain facial expressions, how to use the vocal magic toolbox, etc. Aside from these, it will also help you understand the auditions and recruitment process of news presenters.

Learn how to become a successful news presenter from an expert, experienced as well as popular news professional. Enroll in this 'News Presentation Course' today and start walking towards your dream!
Course certificate
কোর্সটি সফলভাবে শেষ করলে আপনার জন্য আছে সার্টিফিকেট যা আপনি-
আপনার সিভিতে যোগ করতে পারবেন

লিংকডইন প্রোফাইলে সরাসরি শেয়ার করতে পারবেন

ফেসবুকে এক ক্লিকেই শেয়ার করতে পারবেন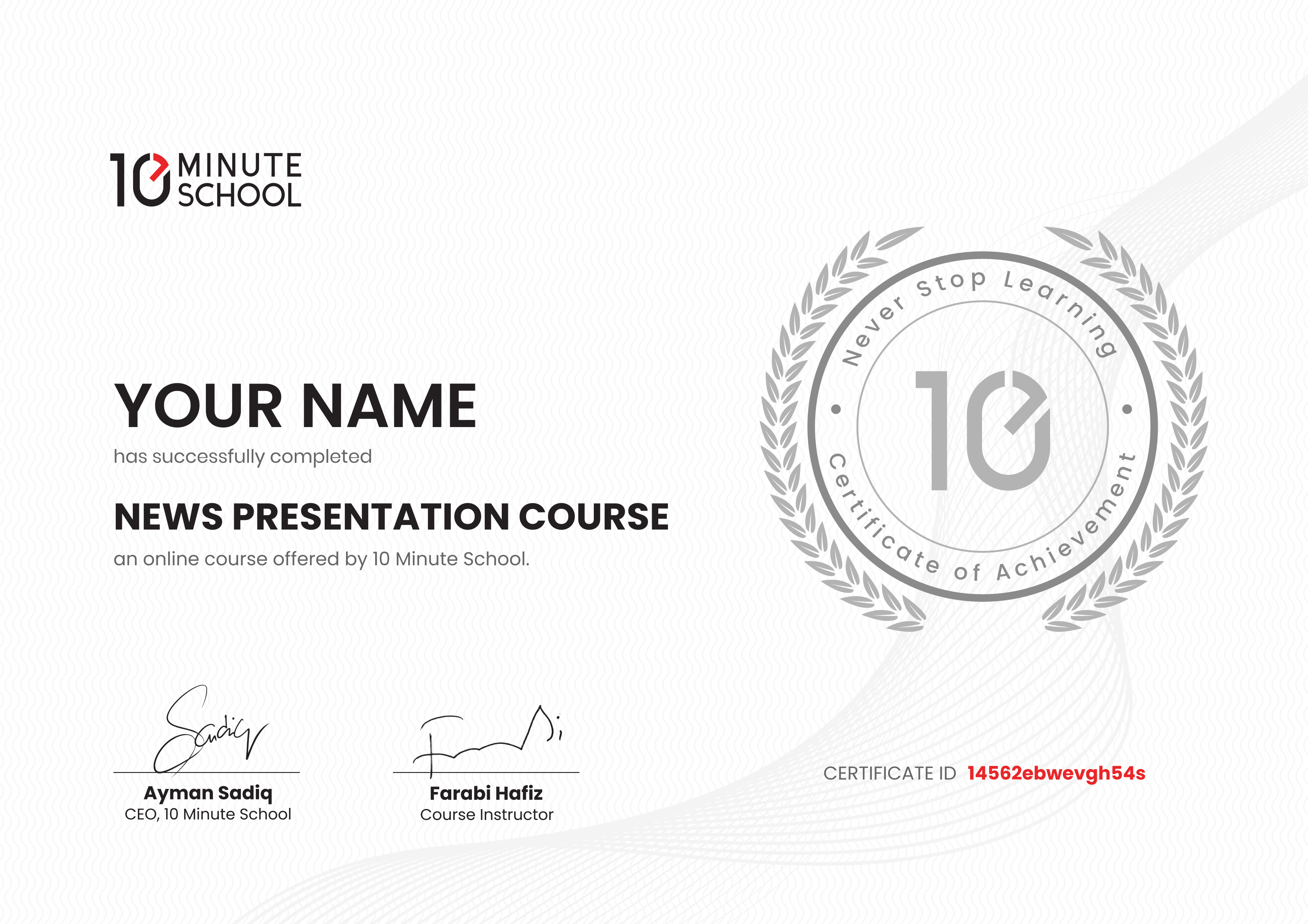 Course details
ইন্টারনেট সংযোগ (ওয়াইফাই বা মোবাইল ইন্টারনেট)

স্মার্টফোন অথবা পিসি
Payment process
কীভাবে পেমেন্ট করবেন তা বিস্তারিত জানতে এই ভিডিওটি দেখুন
News Presentation Course

Total Enrolled 397

Time Required 3 hours

19 Videos

Validity 6 Months