Course instructors
Founder & CEO, 10 Minute School
Forbes 30 Under 30;
Queen's Young Leader;
Bestselling Author
Mark Anupom Mollick
Business Strategy Consultant
Instructor, 10 Minute School
Founder & Executive Consultant, IDEAN Consultancy
Education Content Creator;
Digital Media Strategist;
Author, 10 Minute School
What you will learn by doing the course
Different advanced Facebook ad management strategies to increase sales

All the ins and outs of Meta Business Manager, Meta Business Suite, and Facebook ads account

How to use different important features of Facebook and techniques to increase the organic reach of Facebook groups and pages

How to create content that will help you obtain new customers and retain old ones

Facebook advertisement policy and guideline

Messenger ad management, auto-response setup, and running conversion campaigns
Course details
This Facebook Marketing Expert Bundle course is for:

Those who want to ensure the publicity of their business through Facebook ads and content
Those who are interested in Social Media Marketing or want to learn how to earn through Facebook content
Those who want to master Facebook ads and become expert freelancers
Those who are interested in learning how to run Facebook ads in order to excel in their corporate career
About the Facebook Marketing Expert Bundle course:

Facebook marketing accounts for a large portion of the digital marketing industry. It is the most popular social platform in Bangladesh and the world. Facebook is the most effective for business owners and entrepreneurs who want to reach their audience. However, Facebook ads have added an entirely new dimension to this area. It now allows you to easily run well-targeted advertisements, within a community of 150-200 crore people. Almost all businesses currently rely on Facebook ads to increase their engagement and sales, regardless of their scale.

In recent years, many businesses and startups have been built centering Facebook and other social media platforms. However, the success of these businesses often hinges on the effectiveness of their advertising campaigns. Unfortunately, many businesses rely on third-party agencies to manage their Facebook ads, which can lead to subpar results due to a lack of expertise. That's why it's crucial to understand how to run Facebook ad campaigns effectively. With the right knowledge and strategy, you can reach your target audience and achieve the engagement your business needs to thrive. On the other hand, remote freelancing opportunities are on the rise, and understanding social media advertising is essential in today's competitive job market. Whether you're a marketer, small business owner, or aspiring digital nomad, mastering Facebook ads can open new doors and help you reach your goals.

Enroll in this "Facebook Marketing Expert Bundle" course to learn how to protect your brand from competitors and start your journey of becoming a Facebook ad expert!
Course certificates
কোর্সটি সফলভাবে শেষ করলে আপনার জন্য আছে সার্টিফিকেট যা আপনি-
আপনার সিভিতে যোগ করতে পারবেন

লিংকডইন প্রোফাইলে সরাসরি শেয়ার করতে পারবেন

ফেসবুকে এক ক্লিকেই শেয়ার করতে পারবেন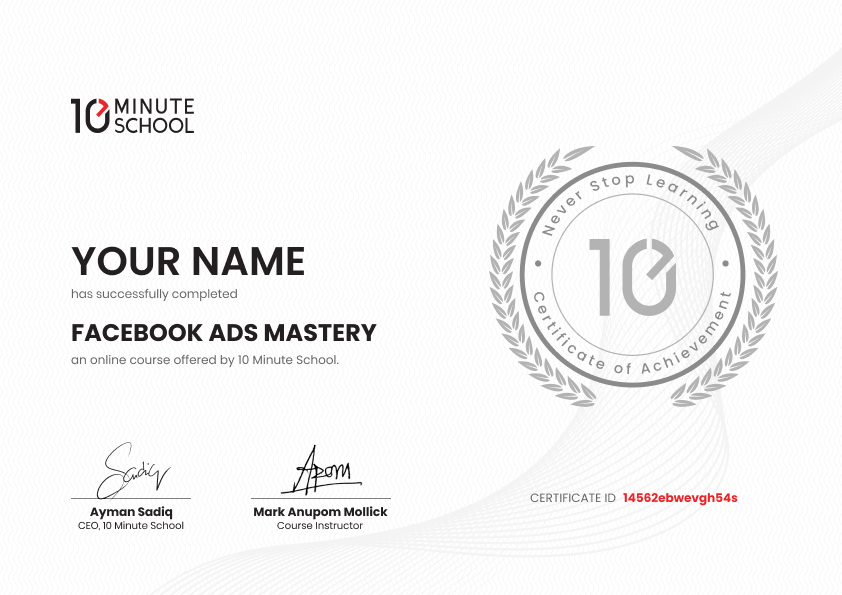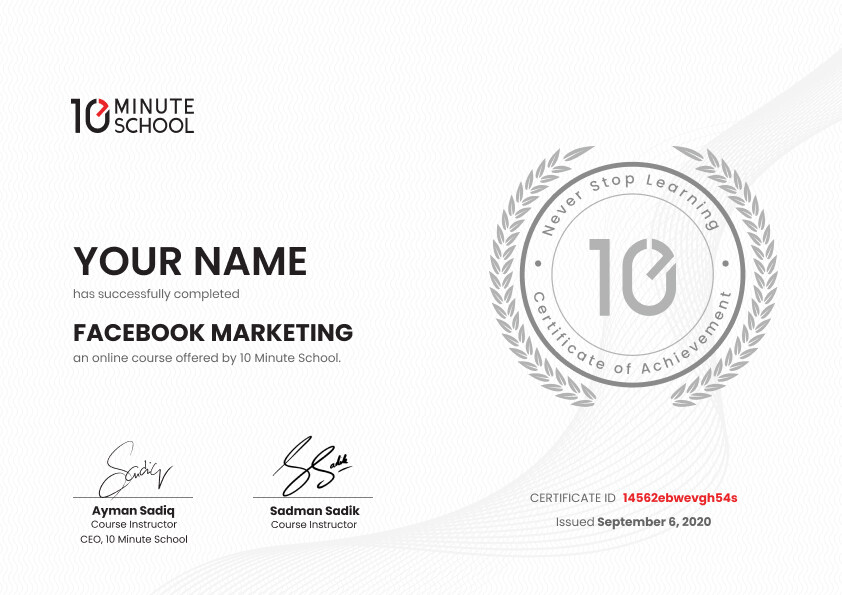 Course details
ইন্টারনেট সংযোগ (ওয়াইফাই বা মোবাইল ইন্টারনেট)

স্মার্টফোন অথবা পিসি
Payment process
কীভাবে পেমেন্ট করবেন তা বিস্তারিত জানতে এই ভিডিওটি দেখুন
Facebook Marketing Expert Bundle

Total Enrolled 292

Time Required 30 hours

84 Videos

15 set Quiz

58 Notes