Course instructor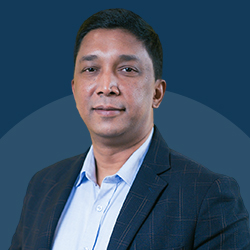 Ejazur Rahman
Managing Director & Lead Coach, Mind Mapper Bangladesh
What you will learn by doing the course
Ways to nurture and flourish your inner leadership quality

Handling critical situations with helpful techniques

Understanding others' thought processes to influence people around you positively

Cultivating the must-have habits of a worthy leader
Course details
About the course

We think leadership skill is only required in social and political circumstances while it also helps improve our academic and professional performance. Most people perceive leadership skill as a born trait. But many around us build themselves as successful leaders utilizing their hard work.

Is it your dream to be a good leader? Do your teachers and mentors suggest you work on your leadership skill, but you are unsure how to develop a soft skill like this? Or are you missing out on that long-awaited promotion because you lack the leadership skills required by the position?

If so, the "Leadership Excellence" course from 10 Minute School is the right match for you. The curriculum of this course uses examples of successful real-life leaders to teach you excellent leadership qualities and skills. You will learn how to inspire your subordinates or group mates, influence people, and handle critical or urgent situations.

So, enrol in the "Leadership Excellence" course and build yourself as the worthy and successful leader you are meant to be.
Course certificate
কোর্সটি সফলভাবে শেষ করলে আপনার জন্য আছে সার্টিফিকেট যা আপনি-
আপনার সিভিতে যোগ করতে পারবেন

লিংকডইন প্রোফাইলে সরাসরি শেয়ার করতে পারবেন

ফেসবুকে এক ক্লিকেই শেয়ার করতে পারবেন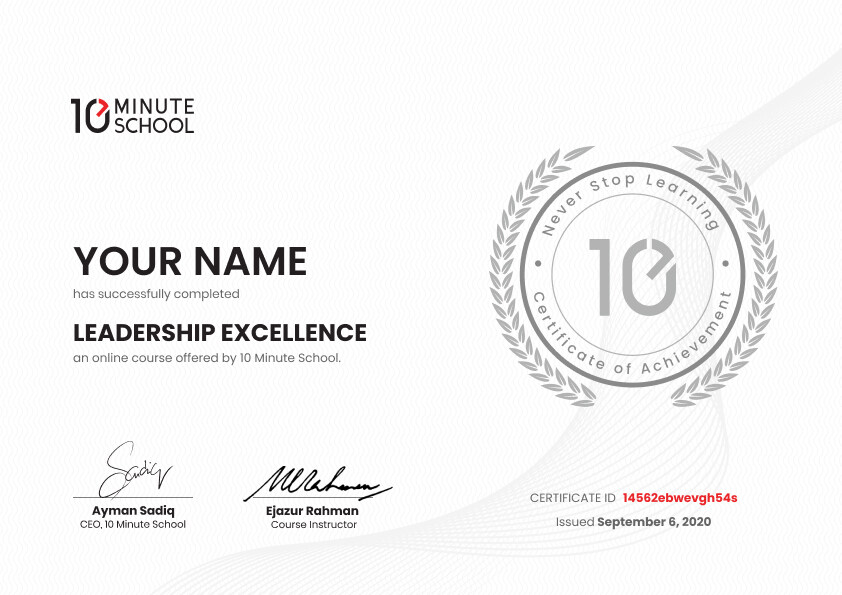 Course details
ইন্টারনেট সংযোগ (ওয়াইফাই বা মোবাইল ইন্টারনেট)

স্মার্টফোন অথবা পিসি
Payment process
কীভাবে পেমেন্ট করবেন তা বিস্তারিত জানতে এই ভিডিওটি দেখুন
Leadership Excellence

Total Enrolled 1823

Time Required 5 hours

18 Videos

3 set Quiz

18 Lecture Sheets

Validity 6 Months