Learn freelancing online from the top-rated freelancing course in Bangladesh. Establish yourself in freelancing marketplaces, get your first client, build a successful portfolio, and make money online right from the comfort of your own home.
What you will learn by doing the course
The complete guideline to start a career as a freelancer and knowing the most demanding jobs in Freelancing, which skills are necessary to do freelancing, and how to earn these skills

Getting started on the most in-demand skills in freelancing marketplaces which include Basic Design with Canva, Content Writing, Virtual Assistant Skills, Instagram Marketing, Email template designing, YouTube Skills, Data Entry, etc.

Creating effective profiles/gigs in international marketplaces and landing your first job

Receiving and completing orders and collecting payments from clients
Course details
About the Freelancing Course

Freelancing is growing as one of the most popular career choices for Bangladeshi youth, mostly because of the possibility of honest income from the comfort of their own homes. Anyone who is interested in freelancing has a few common questions- "How to learn freelancing", "What is needed to start freelancing", "What are the most in-demand skills in freelancing marketplaces", etc. The aim of this freelancing course is to answer these questions for you and to make you ready for international freelancing marketplaces.

With more people joining international marketplaces like Upwork, Fiverr and Freelancer.com, it is very important to learn profitable skills and create outstanding profiles for yourself to stand out. That is why Joyeta Banerjee, a top-rated freelancer in Upwork, is here to ensure that you start your freelance career on the right foot through her Freelancing Course.
The Freelancing Course is for

Beginner who wants to start their career through freelancing
Those who want to build a profitable freelancing business
Those who want to escape 9-5 jobs and work independently
Those who want to switch their current career or add an income source using their skills
Those who already have marketplace accounts but are not making progress
Students who want to earn alongside their studies
Housewives who want to work from their own home
The Freelancing Course will answer these questions

What is freelancing? How big is the universe?
How can a beginner start freelancing?
How to learn freelancing? How freelancing works?
How to start freelancing? What are the things to know?
What are the most in-demand skills in freelancing, and how to learn them?
How to open an account in a freelancing marketplace?
how to earn money from freelancing
How to receive payment after completing a job?
How to build a profitable freelancing business?

Our "ঘরে বসে Freelancing" course will teach you how to search for skills required to work in marketplaces, how to learn these skills, and finally, how to apply them. This is one of the best Freelancing course in Bangladesh, To build a successful freelancing career with our expert instructor, enroll today.
Course certificate
কোর্সটি সফলভাবে শেষ করলে আপনার জন্য আছে সার্টিফিকেট যা আপনি-
আপনার সিভিতে যোগ করতে পারবেন

লিংকডইন প্রোফাইলে সরাসরি শেয়ার করতে পারবেন

ফেসবুকে এক ক্লিকেই শেয়ার করতে পারবেন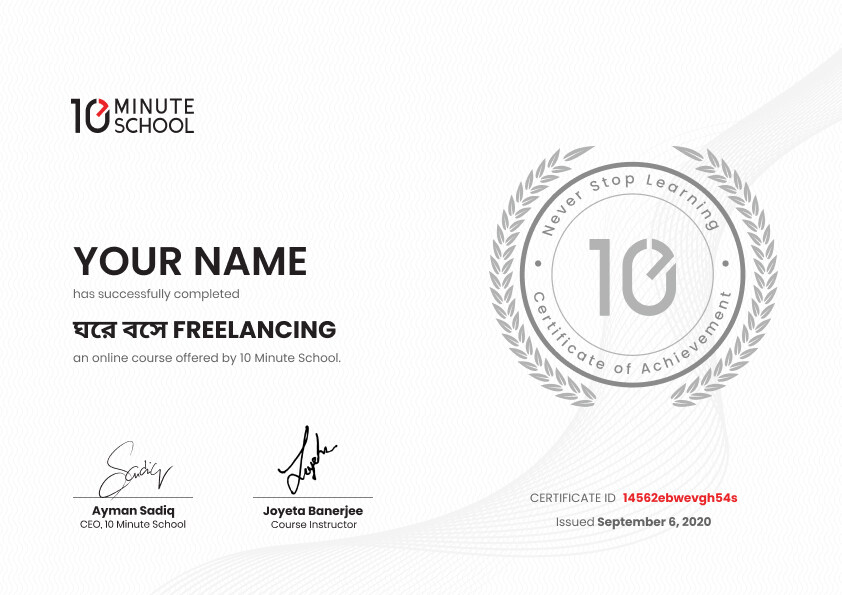 Course details
ইন্টারনেট সংযোগ (ওয়াইফাই বা মোবাইল ইন্টারনেট)

স্মার্টফোন অথবা পিসি
Payment process
কীভাবে পেমেন্ট করবেন তা বিস্তারিত জানতে এই ভিডিওটি দেখুন
ঘরে বসে Freelancing

Total Enrolled 38278

Time Required 14 hours

71 Videos

3 Lecture Sheets

Validity 6 Month
2015 - 2023 Copyright © 10 Minute School. All rights reserved.