Course instructor

What you will learn by doing the course
Practical skills and knowledge required for FMCG retail management.

Effective tips and methods for becoming a skilled retail manager.

How to solve sales decline due to inefficiency in Retail Management.

How to remain optimistic in the workplace despite intense competition and pressure.

How to attract your desired consumers and highlight the usefulness of your products.
Course details
This course includes:

Different tactics, tips and tricks to sell FMCG products.
An overview of Call productivity, SKU productivity, Value productivity, Brand call productivity and Volume productivity.
Types of sales channels and how to manage sales through different channels.
How to manage direct sales of FMCG products.
The importance of merchandising and how to merchandise your products.
About the course

Do you want to pursue your career in the retail sector? Are you looking for ways to improve your skills and reach the pinnacle of success as a retail manager? Or do you want to cut costs in your business and maximize profit? If any of your answers is yes, then Ten Minute School's "Effective FMCG Retail Management" course is just for you!

This course will guide you through all the operations and decision-making processes of a retail business and help you succeed in retail management. It will also help you to learn how major companies work with fashion and luxury goods and how they communicate. So if you aspire to become a successful retail manager, hurry up and enrol in this course!
Course certificate
কোর্সটি সফলভাবে শেষ করলে আপনার জন্য আছে সার্টিফিকেট যা আপনি-
আপনার সিভিতে যোগ করতে পারবেন

লিংকডইন প্রোফাইলে সরাসরি শেয়ার করতে পারবেন

ফেসবুকে এক ক্লিকেই শেয়ার করতে পারবেন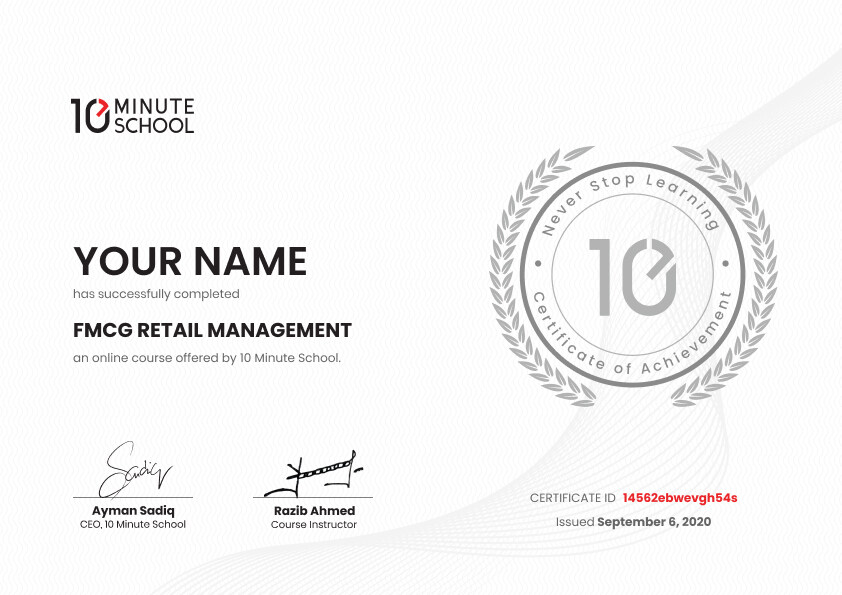 Course details
ইন্টারনেট সংযোগ (ওয়াইফাই বা মোবাইল ইন্টারনেট)

স্মার্টফোন অথবা পিসি
Payment process
কীভাবে পেমেন্ট করবেন তা বিস্তারিত জানতে এই ভিডিওটি দেখুন
FMCG Retail Management

Total Enrolled 125

Time Required 4 hours

22 Videos

22 set Quiz

Validity 6 Months