Help your kids finesse their Bangla Handwriting skills from scratch with this well-detailed course!
Course instructor

Foridul Islam Khan
Hand Writing Trainer, Cambrian School & College
What you will learn by doing the course
How to improve Bangla handwriting to make it flawless in a short time.

How to construct words with each alphabet in the Bangla language, using the vowels and consonants.

The correct use of punctuation marks for writing in Bangla.
Course details
About the course

Are you worried about your child's Bangla handwriting? Looking for an easy way to improve it?

Good handwriting doesn't only have a positive effect on exam copies, but it also helps to add a different dimension to one's personality. And that is why, Ten Minute School has brought to you "সুন্দর ও দ্রুত বাংলা হাতের লেখা" course, designed to help your child improve their handwriting quickly and playfully.

This course is the ideal solution to your child's Bangla handwriting issues. It is specifically designed for children, with due consideration to all the issues they face regarding Bangla handwriting. It will help them understand everything they need to do in order to improve their handwriting while also keeping it fast. It also encourages them to practice Bangla handwriting by discussing its importance. So enrol today to make sure that your child gets all the care they need to enhance their handwriting!
How will this course help you:

By teaching you how to make your Bangla handwriting clean, precise and eye-catching.
By removing your fear and doubt over Bangla writing.
By increasing your success in exams by improving your handwriting.
By enabling you to stand out amongst others with fast and flawless Bangla handwriting.
Course certificate
কোর্সটি সফলভাবে শেষ করলে আপনার জন্য আছে সার্টিফিকেট যা আপনি-
আপনার সিভিতে যোগ করতে পারবেন

লিংকডইন প্রোফাইলে সরাসরি শেয়ার করতে পারবেন

ফেসবুকে এক ক্লিকেই শেয়ার করতে পারবেন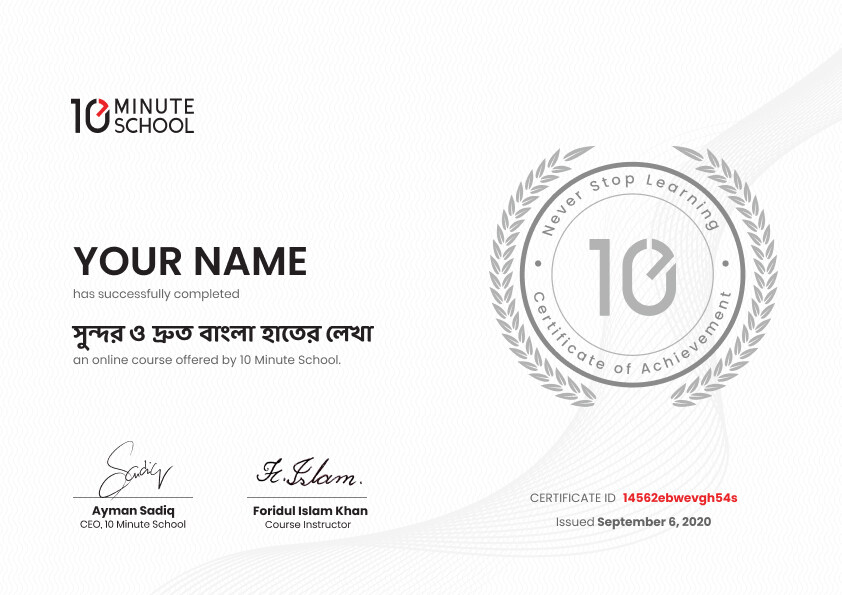 Course details
ইন্টারনেট সংযোগ (ওয়াইফাই বা মোবাইল ইন্টারনেট)

স্মার্টফোন অথবা পিসি
Payment process
কীভাবে পেমেন্ট করবেন তা বিস্তারিত জানতে এই ভিডিওটি দেখুন
সুন্দর ও দ্রুত বাংলা হাতের লেখা

Total Enrolled 1142

Time Required 6 hours

21 Videos

50 Animated Animated Videos

Validity 6 Months
2015 - 2023 Copyright © 10 Minute School. All rights reserved.