Introduce your kids to the world of programming, through the basics of HTML and CSS. Enrol them today to prepare them for the future of technology!
Course instructor

Prapty Rahman
Founder of Ministry of Codes;
Winner of National ICT Award
What you will learn by doing the course
How to master the difficult concepts of Programming Languages like JavaScript, HTML & CSS.

The use of various functions, variables and logic blocks in app building.

How to create apps such as the adventure app, paint app and timer.

The use of animations in game development and how to create games similar to space shooters and gold rush.

How to create your own inventory tracker and social media site using HTML & CSS.
Course details
About this course

In the present world, dictated by Information & Communication Technology, it is very important to introduce your child to programming languages from an early age, a practice common in most of the developed nations around the world. Computer programming will help your child master a mathematical language, which will encourage their creativity and ingenuity, solidify their foundation in coding and teach them to make decisions in a well-planned manner.

However, searching for a proper guideline on programming can be quite tedious, as a simple Google search may leave you puzzled with thousands of results. That's why Ten Minute School brings to you the 'Programming For Kids' course, which uses fun ways to teach your child how to code and run programs!

Our esteemed course instructor, Prapti Rahman, who is the recipient of the National ICT Award in 2021 for her work on children's programming and was selected as a 'Global Shaper' by the World Economic Forum will guide your child throughout this journey. Enrol your child to this course today, to illuminate their dream of becoming a programmer.
How will this course help your kids?

By teaching them how websites, games and applications work and how to develop them.
By teaching the basics of a useful programming language.
By introducing them to the world of coding, as well as application, website, and game development.
Course certificate
কোর্সটি সফলভাবে শেষ করলে আপনার জন্য আছে সার্টিফিকেট যা আপনি-
আপনার সিভিতে যোগ করতে পারবেন

লিংকডইন প্রোফাইলে সরাসরি শেয়ার করতে পারবেন

ফেসবুকে এক ক্লিকেই শেয়ার করতে পারবেন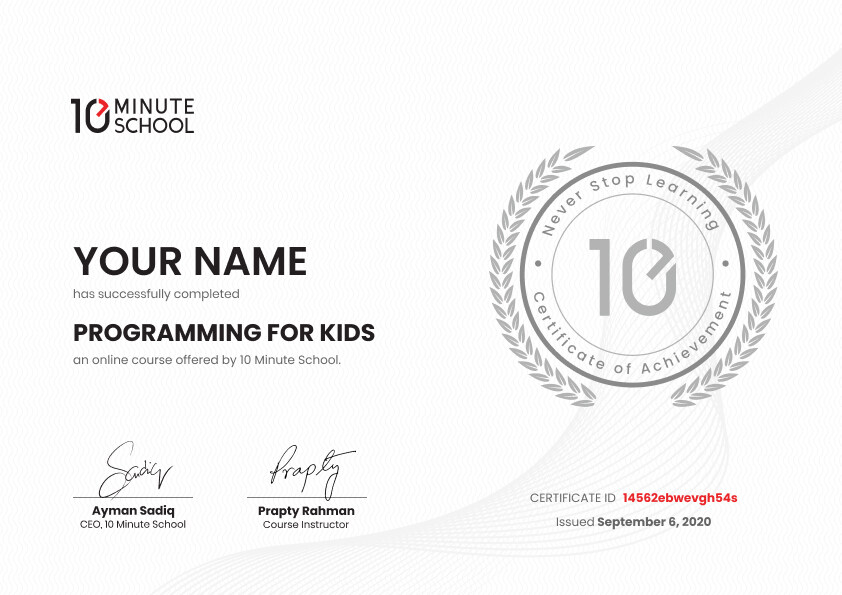 Course details
ইন্টারনেট সংযোগ (ওয়াইফাই বা মোবাইল ইন্টারনেট)

স্মার্টফোন অথবা পিসি
Payment process
কীভাবে পেমেন্ট করবেন তা বিস্তারিত জানতে এই ভিডিওটি দেখুন
Programming for kids

Total Enrolled 1114

Time Required 3 hours

21 Videos

3 set Quiz

20 Notes

Validity 6 Months
2015 - 2023 Copyright © 10 Minute School. All rights reserved.