Course instructor

Yousuf Efti
Sales Leadership Trainer;
Ph.D. Scholar;
CEO at Future Icon;
Chair, Training and Development, BOLD
What you will learn by doing the course
Important leadership and managerial skills for becoming a pharmaceutical sales leader.

How to keep your team engaged and maximize its performance.

Hard skills and soft skills to master in order to become an efficient leader.

How to improve the sales performance of your team.

The importance of time management in order to succeed in the pharmaceutical industry.
Course details
About this course

The sales team of any pharmaceutical company is one of its biggest and most important teams. It does the hard work of reaching out to the designated buyers and selling the product, among the crowd of innumerable competitors. The sales managers are responsible for helping the company grow by planning sales strategies, as well as guiding and managing the sales staff.

To help you become an efficient sales leader of a pharmaceutical company, 10 Minute School brings you the "Pharma Leadership Course For High Performance" course. This sales-focused course will teach you how to manage your team and enable you to meet the company's sales targets. Industry expert course Instructor Yusuf Ifti will teach you how to evaluate and coordinate sales performance and which sales methods to apply to generate maximum profit. So if you want to become a successful sales leader in the pharmaceutical industry, enrol in this course today!
This course includes:

Top 10 leadership skills and their importance in the pharmaceutical industry.
How to develop effective and charismatic communication skills.
How to evaluate personality using the DISC method.
How to use the DOSE method to reduce stress.
How to easily solve problems using the CASE method.
The methods of forming a high-performing sales team.
How to motivate a colleague to be more efficient at his work.
Course certificate
কোর্সটি সফলভাবে শেষ করলে আপনার জন্য আছে সার্টিফিকেট যা আপনি-
আপনার সিভিতে যোগ করতে পারবেন

লিংকডইন প্রোফাইলে সরাসরি শেয়ার করতে পারবেন

ফেসবুকে এক ক্লিকেই শেয়ার করতে পারবেন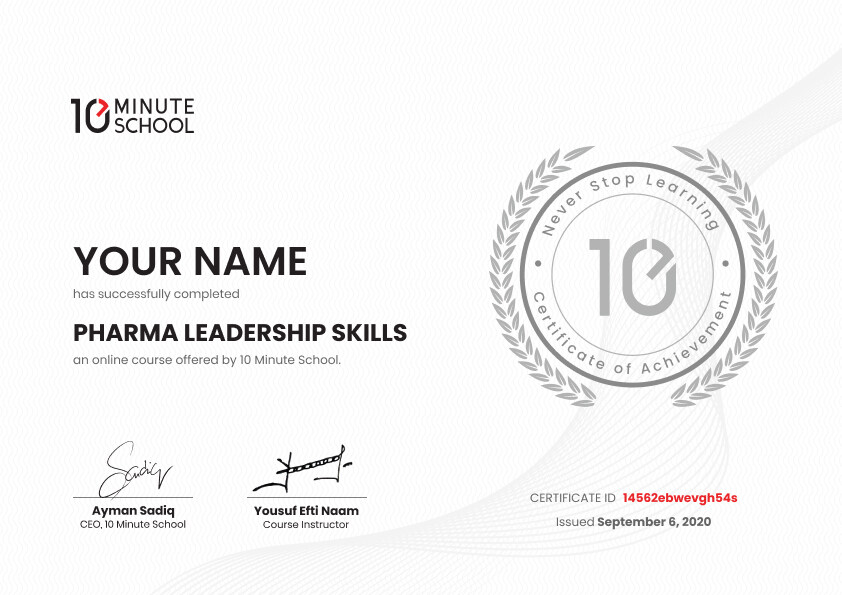 Course details
ইন্টারনেট সংযোগ (ওয়াইফাই বা মোবাইল ইন্টারনেট)

স্মার্টফোন অথবা পিসি
Payment process
কীভাবে পেমেন্ট করবেন তা বিস্তারিত জানতে এই ভিডিওটি দেখুন
Pharma Leadership Skills For High Performance

Total Enrolled 57

Time Required 3 hours

45 Videos

6 set Quiz

Validity 6 Months