Course instructors
Founder & CEO, 10 Minute School
Forbes 30 Under 30;
Queen's Young Leader;
Bestselling Author
Tanzir Islam
Institute of Business Administration,University of Dhaka
What you will learn by doing the course
The step-by-step process of solving any business case

Time management strategy for solving cases with time constraints

Tips & tricks and case-solving strategies to help you ace any business competition
Course details
About the course

Knowing how to crack any business case is essential in any sector, whether a business competition or a regular corporate job. It is not critical to the business students only. Business cases originate from real-life problems. Solving those problems and coming up with unique business ideas is a skill everyone needs regardless of their academic background.

So to help you improve your problem-solving skills, 10 Minute School has introduced the "Business Case Solving" course. This free course with expert guidelines will not only help you win business competitions but also teach you how to solve different cases in the corporate world.

So if you want to improve your business case-solving skills and be successful in business case competition or a corporate career, enroll in the course today!
What you will learn from this course

Know A-Z of case-solving.
Learn tricks and shortcuts that will make your case solving easier.
Know the requirements of case solving.
Learn how to stay ahead in the corporate world through case solving
Course certificate
কোর্সটি সফলভাবে শেষ করলে আপনার জন্য আছে সার্টিফিকেট যা আপনি-
আপনার সিভিতে যোগ করতে পারবেন

লিংকডইন প্রোফাইলে সরাসরি শেয়ার করতে পারবেন

ফেসবুকে এক ক্লিকেই শেয়ার করতে পারবেন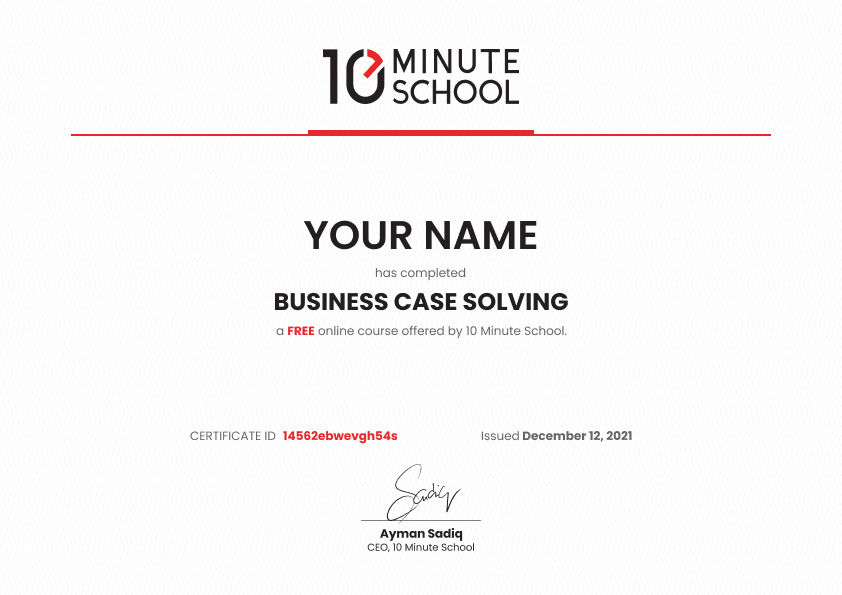 Course details
ইন্টারনেট সংযোগ (ওয়াইফাই বা মোবাইল ইন্টারনেট)

স্মার্টফোন অথবা পিসি
Payment process
কীভাবে পেমেন্ট করবেন তা বিস্তারিত জানতে এই ভিডিওটি দেখুন
Business Case Solving

Total Enrolled 28818

Time Required 2 hours

25 Videos

Validity 6 Months