Learn how to establish yourself as an efficient Supervisor at your workplace. Enrol today and start acquiring necessary skills such as leadership and teamwork.
Course instructor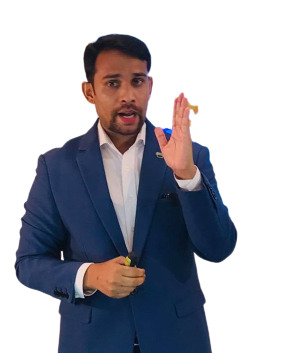 Omar Faruk
Soft Skills Trainer
Fire Safety Awareness Trainer
What you will learn by doing the course
Your role in a business organisation as a manager or a supervisor.

The managerial responsibilities of a supervisor.

Skill sets to acquire to stand out in the workplace.

The importance of leadership qualities as a supervisor and how to acquire them.
Course details
About this course

Management is a process which mainly employs 5 functions (planning, organising, staffing, leading, and controlling) to reach the goals and objectives of an organization. The management team plays the most important role in fulfilling the objectives of any business organization. Thus, in order for a company to be successful, they require an efficient management system and skilled managers.

If you are interested in management and wish to pursue your career as a manager, but are struggling to find where to start and which skills to acquire, then 10 Minute School's "Supervisory Skills Training" course is the perfect option for you. This course discusses the importance of management, teamwork and leadership, networking and communication along with other roles, responsibilities and skills of an efficient manager. So if you want to be a successful manager or a supervisor at your workplace, enroll in this course today!
Course certificate
কোর্সটি সফলভাবে শেষ করলে আপনার জন্য আছে সার্টিফিকেট যা আপনি-
আপনার সিভিতে যোগ করতে পারবেন

লিংকডইন প্রোফাইলে সরাসরি শেয়ার করতে পারবেন

ফেসবুকে এক ক্লিকেই শেয়ার করতে পারবেন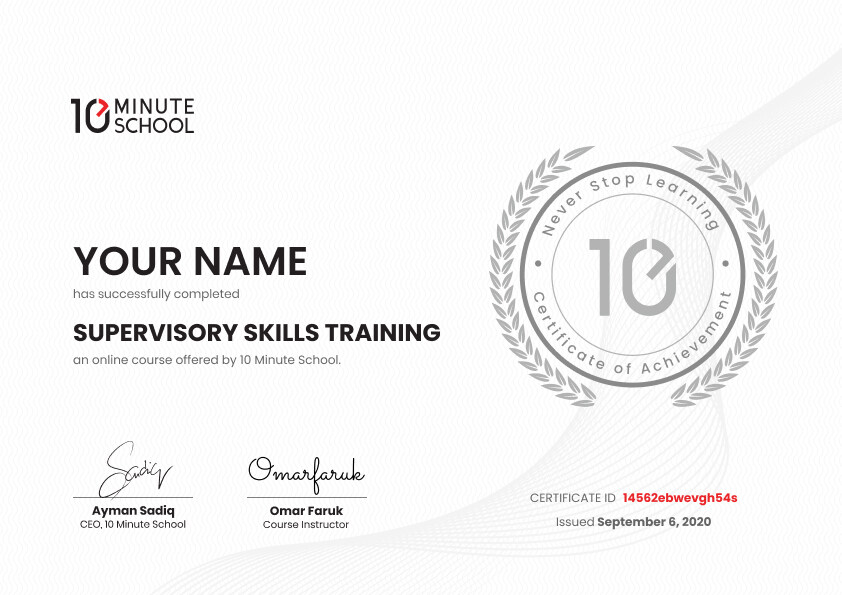 Course details
ইন্টারনেট সংযোগ (ওয়াইফাই বা মোবাইল ইন্টারনেট)

স্মার্টফোন অথবা পিসি
Payment process
কীভাবে পেমেন্ট করবেন তা বিস্তারিত জানতে এই ভিডিওটি দেখুন
Supervisory Skills Training

Total Enrolled 57

Time Required 6 hours

42 Videos

Validity 6 Months
2015 - 2023 Copyright © 10 Minute School. All rights reserved.