Learn everything about motion graphics including logo animation, character animation, motion tracking, and more with our 'Motion Graphics in After Effects' course.
Course instructor

Ruhul Amin
Motion Graphics Designer;
Animator;
Founder & CEO, Binarilink
What you will learn by doing the course
Fundamental to intermediate-level projects using Adobe After Effects

Logo animation, plugin usage, motion tracking, etc.

Basics of 2D and 3D motion graphics, and video effects

Usage of a green screen and editing green screen background
Course details
About the course

Motion graphics is not only about high-budget, complex projects like Disney or Pixar movies. The credits or title animations rolling in after a movie or a tv program are also under the big umbrella of motion graphics. With the increasing amount of video content on the internet, the scope of motion graphics has expanded more than ever, and so has the demand for an expert motion designer.

Many people are afraid of learning motion graphics. Most of them are intimidated by the user interfaces of the editing software. But the good news is that the effort behind learning an advanced skill like motion graphics never goes in vain. With most people going for the easy-to-learn skills, the competition in motion graphic design is lower, and the pay is significantly higher.

Motion graphics is a unique skill in graphic designing and animation. To help you teach yourself motion graphics, 10 Minute School has introduced the "Motion Graphic in After Effects" course.

This course has been divided into Beginner, Intermediate, and Advanced modules, making it a complete package for learners from all levels. In addition, you will receive exclusive career guidelines to kick start your career as a motion graphic designer. In this current world of making yourself better than your yesterday's self, stay one step ahead by enrolling in this course.
This course includes:

Techniques of applying video effects
Basics of 2D/3D animation, green screen motion tracking, and intro-outro preparation for animation videos
Intermediate-level knowledge about Adobe After Effects
Course certificate
কোর্সটি সফলভাবে শেষ করলে আপনার জন্য আছে সার্টিফিকেট যা আপনি-
আপনার সিভিতে যোগ করতে পারবেন

লিংকডইন প্রোফাইলে সরাসরি শেয়ার করতে পারবেন

ফেসবুকে এক ক্লিকেই শেয়ার করতে পারবেন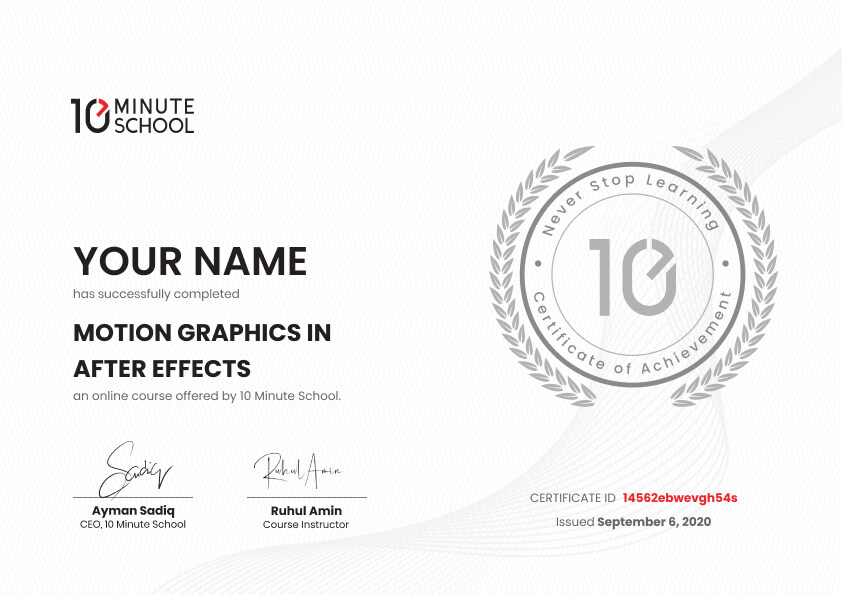 Course details
ইন্টারনেট সংযোগ (ওয়াইফাই বা মোবাইল ইন্টারনেট)

স্মার্টফোন অথবা পিসি
Payment process
কীভাবে পেমেন্ট করবেন তা বিস্তারিত জানতে এই ভিডিওটি দেখুন
Motion Graphics in After Effects

Total Enrolled 940

Time Required 30 hours

80 Videos

2 set Quiz

18 Project Files

1 Notes

Validity 6 Months
2015 - 2023 Copyright © 10 Minute School. All rights reserved.