Course instructors

Tanvir Hasan Britto
Fitness & Lifestyle Coach;
ACE Certified Personal Trainer;
Certified Level-1 & Level-2 Online Trainer;
Founder, Bengal Calisthenics
What you will learn by doing the course
The rules of exercising at home and about the required equipment

Full body training as well as exercise for specific parts of the body

Important elements of a nutritious diet and maintaining a food journal

Developing the habit of maintaining good physical and mental health

Food habits to maintain before and after exercise
Course details
Who is this Personal Fitness course for?

Those who want to be physically fit, but cannot go to a gym
Those who want fitness advice from an experienced trainer
Those who want to maintain a healthy lifestyle
Those who want to bring a positive change in their diet and physical movement
How will the Personal Fitness course help you?

Get motivated to exercise regularly.
You can learn different types of exercises without going to the gym.
Build a habit of exercising regularly.
About the Personal Fitness course

Our current lifestyle often includes unhealthy food choices, uncontrolled food portions and little to no amount of physical movement. For this reason, we are facing several health problems like fatigue and obesity. We know that regular physical exercise can help us fight this situation and keep healthy, but most of us find it difficult to manage the time and mental willingness to exercise regularly. Some resort to getting gym subscriptions and hire personal trainers, but most people find the cost of these solutions out of their affordability. To help you in this situation with expert guidelines of an experienced trainer, 10 Minute School has brought to you the "Personal Fitness" course.

In this course, the course instructor Tanvir Hasan Britta will teach you how to create an exercise program for yourself and maintain it without having to go to a gym. He will also teach you about the importance of sleep and nutrition for maintaining your physical and mental fitness. You will also be able to develop a healthy mindset to start your fitness journey and stick to it regularly. So, if you want to live a long healthy life and maintain physical fitness, enroll today and start exercising with our amazing instructor.
Course certificate
কোর্সটি সফলভাবে শেষ করলে আপনার জন্য আছে সার্টিফিকেট যা আপনি-
আপনার সিভিতে যোগ করতে পারবেন

লিংকডইন প্রোফাইলে সরাসরি শেয়ার করতে পারবেন

ফেসবুকে এক ক্লিকেই শেয়ার করতে পারবেন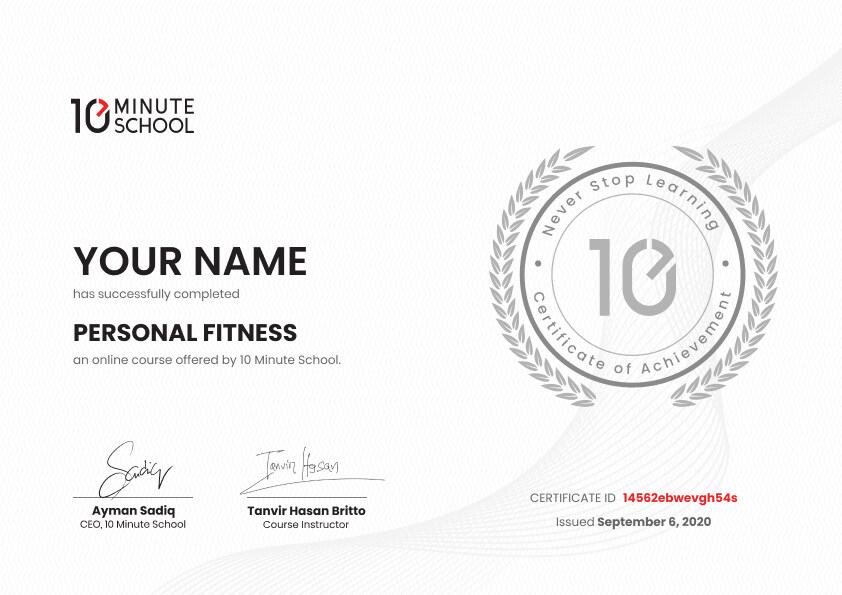 Course details
ইন্টারনেট সংযোগ (ওয়াইফাই বা মোবাইল ইন্টারনেট)

স্মার্টফোন অথবা পিসি
Payment process
কীভাবে পেমেন্ট করবেন তা বিস্তারিত জানতে এই ভিডিওটি দেখুন
Personal Fitness

Total Enrolled 300

Time Required 9 hours

34 Videos

16 Notes

7 set Quiz

Validity 6 Months