Learn to compose and stylize any document, visualize data using charts and graphs, make your CV, and many more using MS Word. Enroll today and learn all tips and tricks of Microsoft Word.
Course instructor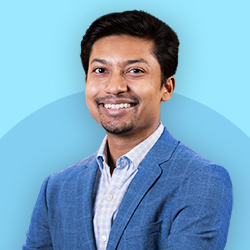 Education Content Creator;
Digital Media Strategist;
Author, 10 Minute School
What you will learn by doing the course
Preparing and formatting different types of documents including academic papers, assignments and official reports using Microsoft Office.

How to use different tools and features of MS Word including data visualization using tables and charts, headings, sub-headings, tables, spell checker, table of contents, find and replace, header & footer, etc.

Nitty-gritty tricks of MS Word and easy-to-use shortcut keys to manage your time more efficiently.

How to use shapes, smart art, and images in a document to make it more elegant.
Course details
About This Microsoft Word Course

Microsoft Word is our go-to software for preparing any kind of document on our computer or mobile devices. It is a widely used word processing software designed by Microsoft dedicated to writing and saving documents that you can carry anywhere at any time. MS Word is regarded as the best software for preparing documents such as letters, reports, research projects, typesetting books, magazines, and so on.

Around 90% of the people in the world use MS Word for their day-to-day work. But if you are new to this software and are struggling to understand the various features it offers, we got you covered. To get you started, 10 Minute School brings you this intermediate-level course on Microsoft Word that is designed to cater to the needs of both students and professionals.

From creating a document to mastering tables, graphs, smart art and data formatting, this course covers it all. The MS Word course also covers different features of the software that can boost both your academic and professional productivity. So, what are you waiting for? Enrol now and start mastering this must-know tool!
This Microsoft Word course includes:

How to use basic MS Word features such as fonts, font size, alignments, page and section breaks, etc.
How to create tables and graphs to organize data and visualize them.
How to use smart art, shapes, and images in a document using Microsoft Word.
How to format any document according to its needs.
How to use different styles of references, in-text citations and bibliography using MS Word.
How to write a CV, research paper, etc. using Microsoft Word.
How Will This Microsoft Word Course Help You

This Microsoft Word course will give you an upper hand in both your academic and professional life by helping you master the most needed tool.
You will be able to learn the simplest basics to the advanced shortcuts and key binds of Microsoft Word very easily.
MS Word is an inevitable tool in the corporate world. So, this course will give you a competitive advantage in learning the software beforehand.
You will be able to increase your productivity and be more efficient in managing your time.
Course certificate
কোর্সটি সফলভাবে শেষ করলে আপনার জন্য আছে সার্টিফিকেট যা আপনি-
আপনার সিভিতে যোগ করতে পারবেন

লিংকডইন প্রোফাইলে সরাসরি শেয়ার করতে পারবেন

ফেসবুকে এক ক্লিকেই শেয়ার করতে পারবেন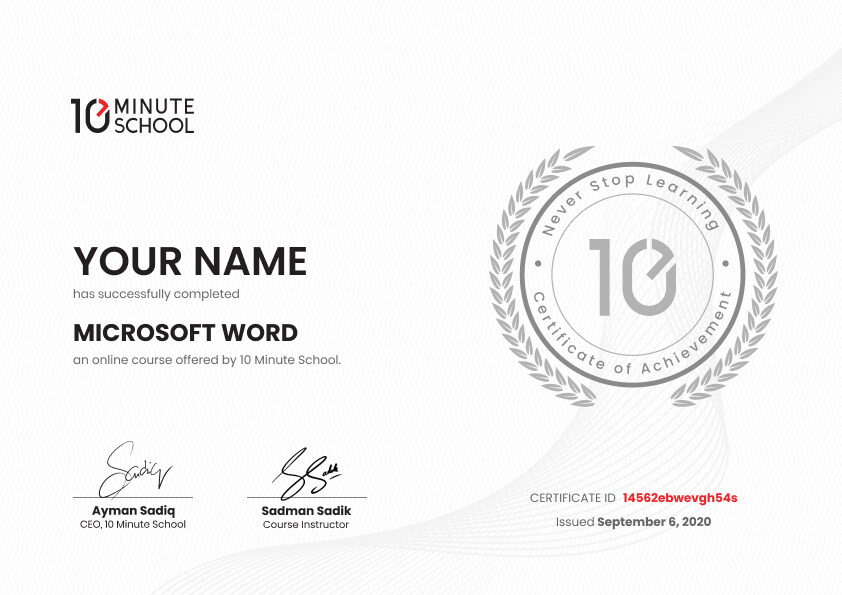 Course details
ইন্টারনেট সংযোগ (ওয়াইফাই বা মোবাইল ইন্টারনেট)

স্মার্টফোন অথবা পিসি
Payment process
কীভাবে পেমেন্ট করবেন তা বিস্তারিত জানতে এই ভিডিওটি দেখুন
Microsoft Word

Total Enrolled 4983

Time Required 5 hours

34 Videos

22 Lecture Sheets

Validity 6 Months
2015 - 2023 Copyright © 10 Minute School. All rights reserved.