Course instructor

Mohammad Yeasir
Top Rated Illustrator, Concept Artist
Illustrator & Concept Artist, Founder of Spinxart
What you will learn by doing the course
From basic to advanced functions, tools and features of Adobe Illustrator.

How to master and practically use graphic designing skills.

How to create ideal graphic content for digital marketing using Adobe Illustrator.
Course details
About The Course

Adobe Illustrator is the most popular vector-based graphic designing software in the world. Although it was only used for creating fonts at first, its functionalities have increased manifold since then. At present, it is widely acclaimed all over the world for its vector-based interface and is used for graphic design, creating digital ads, billboard ads, print design, and much more.

Currently, its importance is so high that knowing how to use Adobe Illustrator gives you a competitive advantage while seeking jobs. Adding this skill to your CV will help you stand out among other candidates. You can also work as a freelance graphic designer, as there are plenty of relevant online gigs available.

However, it is natural to find Adobe Illustrator to be overwhelming, given the vast number of versatile tools it offers. And that is why we got you covered! Ten Minute School's "Adobe Illustrator" course is perfectly designed for beginners to learn and develop this skill, as well as for professionals to brush it up. You will be able to know all the ins and outs of Illustrator by enrolling in this course. You will be able to learn visual marketing, branding, website design, children's book illustration, POD products, 2D art, and much more through vector art. So don't waste any more time and enrol today!
This course includes

How to create character art through Fundamental Anatomy, Gesture and Detailing.
Digital art using Math Toolset, Pen Tool, Brushes, Perspective Tool Sets.
How to use basic to advanced tools like Menu Bar, Image Trace, Properties, Align Panels, Color Panels, Primitive Shapes & Customization.
Principle of Design, Rough Sketch, Tracing / Line Art, Basement Color Apply, Lighting & Presentation.
How this course will help you

By teaching brand identity designing to help you grow as an aspiring digital artist.
Learning quality animation skills and contributing to the animation industry.
Learning how to create ads, posters, leaflets, visiting cards, invitation cards, diagrams, logos, charts, and so on.
By enabling you to kickstart your freelancing career in graphic designing.
Course certificate
কোর্সটি সফলভাবে শেষ করলে আপনার জন্য আছে সার্টিফিকেট যা আপনি-
আপনার সিভিতে যোগ করতে পারবেন

লিংকডইন প্রোফাইলে সরাসরি শেয়ার করতে পারবেন

ফেসবুকে এক ক্লিকেই শেয়ার করতে পারবেন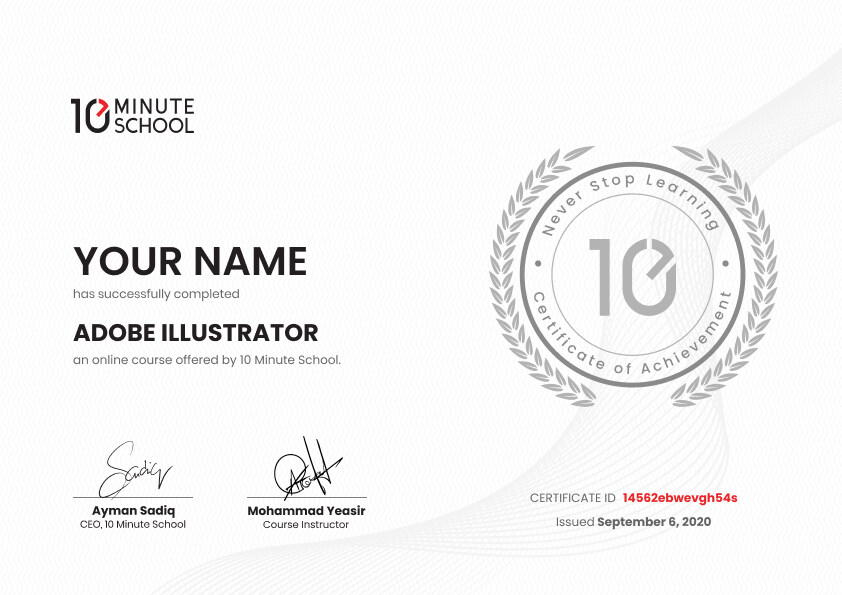 Course details
ইন্টারনেট সংযোগ (ওয়াইফাই বা মোবাইল ইন্টারনেট)

স্মার্টফোন অথবা পিসি
Payment process
কীভাবে পেমেন্ট করবেন তা বিস্তারিত জানতে এই ভিডিওটি দেখুন
Adobe Illustrator

Total Enrolled 823

Time Required 6 hours

33 Videos

17 Notes

12 Assignments

Validity 6 Months