Learn the three most important Microsoft Office software with advanced tips and tricks. Proficiency in MS Office, Excel and PowerPoint will take you to the next level.
Course instructors
Education Content Creator;
Digital Media Strategist;
Author, 10 Minute School
Abtahi Iptesam
Microsoft Excel Trainer
What you will learn by doing the course
Effective shortcuts of the three important software of Microsoft Office (Microsoft Excel, Microsoft Word, and Microsoft PowerPoint) to increase productivity

How to make interesting slides for any presentation for both students and professionals

Ways to create 3D models from basic shapes with Microsoft PowerPoint

3 of the most used MS Office softwares from basic to advanced level

Techniques for writing academic papers, assignments, CV and resume for professional life, making presentation slides or creating any sort of documents using Microsoft Office softwares.
Course details
Who is this Microsoft Office 3 in 1 Bundle for?

Those who have the basic idea of Microsoft Office but struggle with the advanced usage.
Students who need to learn about proper formatting of academic documents like reports, assignments, presentation slides, etc.
Professionals who want to work faster by utilizing the three most used MS Office software effectively.
About The Microsoft Office 3 in 1 Bundle Course

Usually, MS Office products are the first software that we learn after buying a computer. So, it is common to think of ourselves as proficient in these software. It is not unless we start using them in formal settings that we know about their advanced features.

Right now, proficiency in MS Office software is a must for any job. Even if you are a student, you will need to know the usage of Microsoft Word, Excel, and PowerPoint. By learning this three software only, you will be able to create and format all necessary documents.

To help you learn all these at the same time, 10 Minute School has come up with a golden opportunity named "Microsoft Office 3 in 1 Bundle!" Course. By knowing all the details of MS Word, MS Excel, and MS PowerPoint from the Basic to Advanced level, not only will you have good academic results but also can prepare for Professional Life. Enroll in the Microsoft Office course and take yourself to the next level by adding three skills to your bag at the same time. You will also have three certificates for three different MS office skills.
Course certificates
কোর্সটি সফলভাবে শেষ করলে আপনার জন্য আছে সার্টিফিকেট যা আপনি-
আপনার সিভিতে যোগ করতে পারবেন

লিংকডইন প্রোফাইলে সরাসরি শেয়ার করতে পারবেন

ফেসবুকে এক ক্লিকেই শেয়ার করতে পারবেন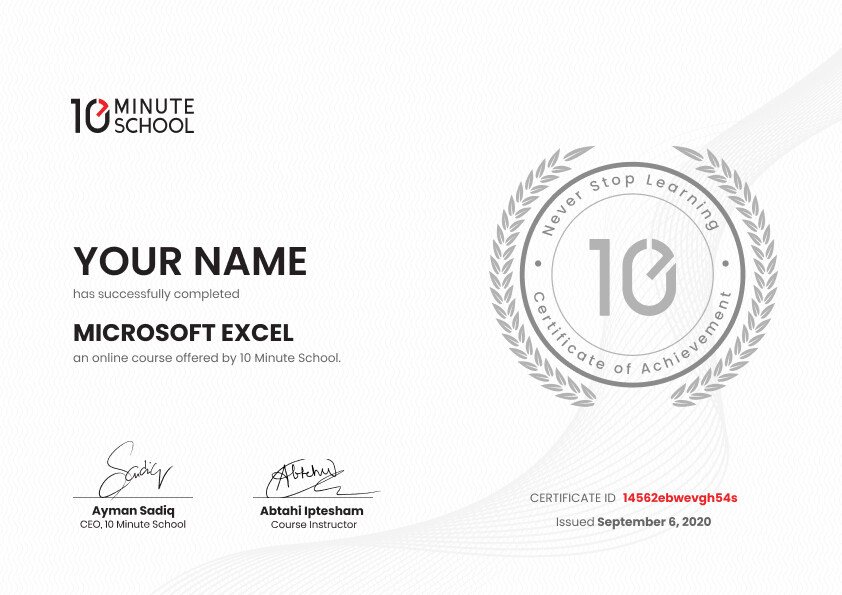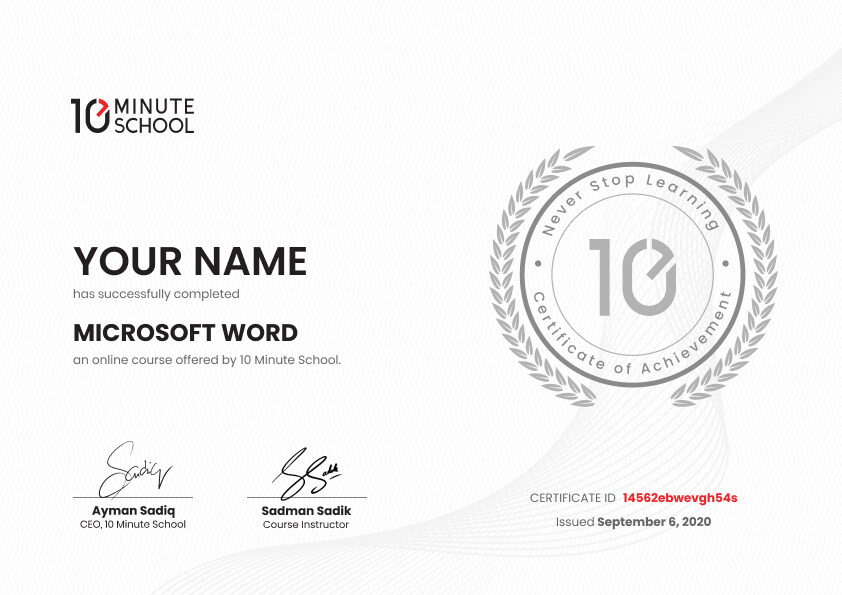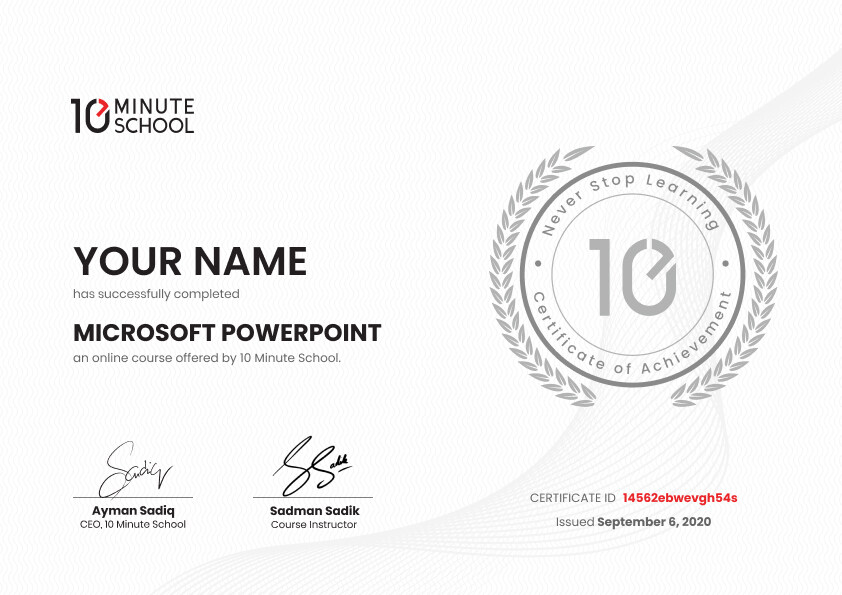 Course details
ইন্টারনেট সংযোগ (ওয়াইফাই বা মোবাইল ইন্টারনেট)

স্মার্টফোন অথবা পিসি
Payment process
কীভাবে পেমেন্ট করবেন তা বিস্তারিত জানতে এই ভিডিওটি দেখুন
Microsoft Office 3 in 1 Bundle

Total Enrolled 3059

Time Required 21 hours

137 Videos

124 Lecture Sheets
2015 - 2023 Copyright © 10 Minute School. All rights reserved.