Learn how to make amazing videos to hook your audience with your content. Take your first step to become a professional video maker. Enrol now to learn from professionals!
Course instructors
Khan Md Ziaus Shams
Co-Founder and Operations Director at Sketchboard Interactive;
Consultant, 10 Minute School
Education Content Creator;
Digital Media Strategist;
Author, 10 Minute School
What you will learn by doing the course
Using different gadgets and equipment for video making.

Shooting and editing videos with your mobile phone and DSLR with advanced techniques.

Standing out from other video creators with your amazing content.

Career advice from expert content creators in the field of video making.
Course details
This course is for:

All video content creators including beginner YouTubers, influencers, video-bloggers (vloggers) and cinematographers.
Those who are struggling to create a place for themselves on Social Media in spite of creating videos, due to the lack of professional advice.
About the Course

From Facebook to Tiktok, we see a lot of influencers on Social-Media with their video content every day, while scrolling down our newsfeed. This ever-growing popularity of video content is opening the door to endless opportunities. Many are shaping their careers as successful content creators, while others are working as video editors and cinematographers for them.

Do you believe you have the creative mindset and passion to build a successful career in this fairly new, yet very promising industry? Do you want to learn all the nitty-gritty details associated with making videos? Then Ten Minute School's "Video Making" course will be your ideal guideline!

In this course, you will get to know everything about the gadgets you need to start making videos, which video-making software you should use, how to shoot videos with ambient lighting and sound setup, and much more! Whether you use your mobile phone or your DSLR camera, you will be given a step-by-step guide on how to shoot professional videos with them.

Many wonder whether they will be able to land a job or build a career by learning how to make videos. Well, you will also find these answers in this course from industry experts. So what are you waiting for? Enrol now and start your journey in video making today!
Course certificate
কোর্সটি সফলভাবে শেষ করলে আপনার জন্য আছে সার্টিফিকেট যা আপনি-
আপনার সিভিতে যোগ করতে পারবেন

লিংকডইন প্রোফাইলে সরাসরি শেয়ার করতে পারবেন

ফেসবুকে এক ক্লিকেই শেয়ার করতে পারবেন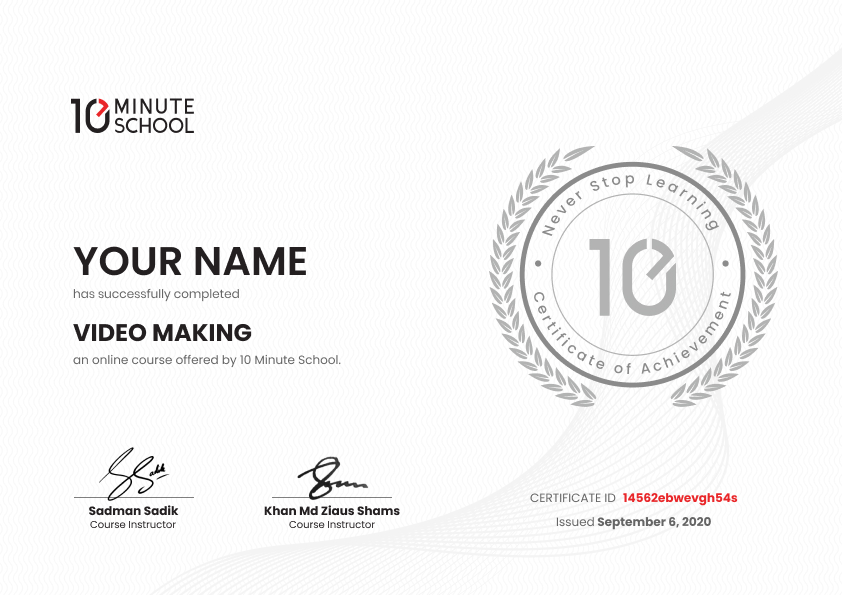 Course details
ইন্টারনেট সংযোগ (ওয়াইফাই বা মোবাইল ইন্টারনেট)

স্মার্টফোন অথবা পিসি
Payment process
কীভাবে পেমেন্ট করবেন তা বিস্তারিত জানতে এই ভিডিওটি দেখুন
Video Making

Total Enrolled 850

Time Required 7 hours

36 Videos

4 set Quiz

Validity 6 Months
2015 - 2023 Copyright © 10 Minute School. All rights reserved.