Learn how to study effectively and perform better in exams with this free course. Enroll today to get valuable insights on how to adequately prepare yourself for your professional life.
Course instructors
Education Content Creator;
Digital Media Strategist;
Author, 10 Minute School
Founder & CEO, 10 Minute School
Forbes 30 Under 30;
Queen's Young Leader;
Bestselling Author
What you will learn by doing the course
Those who want to become better students and perform well in their exams by using revision techniques and learning hacks

Students in the first year of their college, students who are preparing for university admission exams and students who are preparing for various job entrance exams

Students who want to develop various skills
Course details
About the Course

Are you struggling to finish your syllabus despite exams knocking at your door? Are you looking for a strategy to prepare effectively and do well in exams in a short time? Or are you wondering whether you should start doing a part-time internship to earn your pocket money? Whichever it may be, all obstacles in both student and professional life can be resolved with adequate preparation, correct guidelines and a little motivation.

And in order to make this journey easier for students, Ten Minute School has introduced the 'Student Hacks' course. This free course contains videos on tips and techniques to prepare for exams adequately, effective time management, proper English pronunciation and presentation, what to do and what not to do in your university life, what type of clothes to wear in interviews and much more!

This free course will not only help students do better with their studies but also help them prepare for their professional life. What is the ideal CGPA to maintain, how to prepare your CV, the importance of clubbing and networking in your university life, are among the many hacks discussed in this course by our course instructors Ayman Sadiq and Sadman Sadiq. Enroll in this course today to stay ahead of the rest in your academic and professional life!
What you will learn from this course

Effective techniques to do well in exams
Tips, tricks and hacks for mastering Mathematics and English Grammar
Guidelines for starting a business as a student
How to earn money as a student in Bangladesh
The importance of English communication skill and how to improve it
How to prepare your CV and perform better in job interviews
Course certificate
কোর্সটি সফলভাবে শেষ করলে আপনার জন্য আছে সার্টিফিকেট যা আপনি-
আপনার সিভিতে যোগ করতে পারবেন

লিংকডইন প্রোফাইলে সরাসরি শেয়ার করতে পারবেন

ফেসবুকে এক ক্লিকেই শেয়ার করতে পারবেন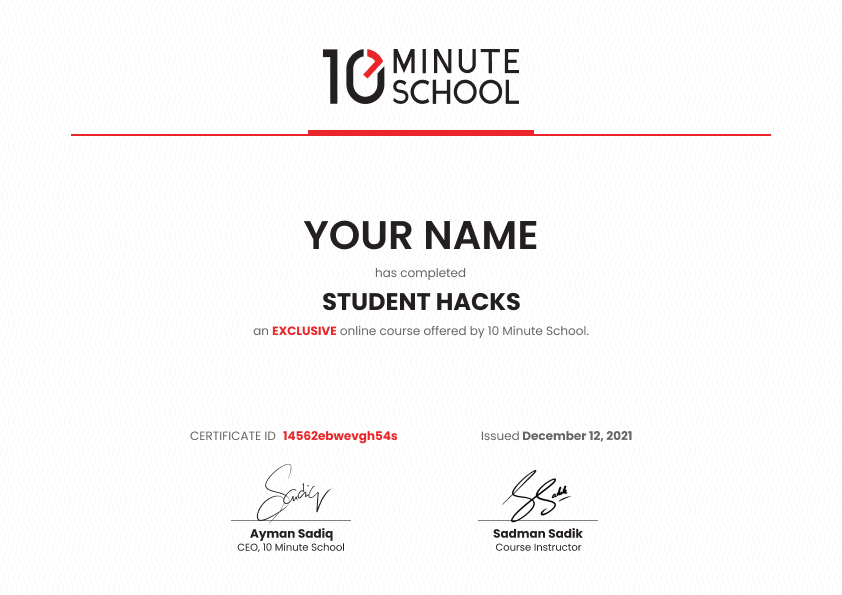 Course details
ইন্টারনেট সংযোগ (ওয়াইফাই বা মোবাইল ইন্টারনেট)

স্মার্টফোন অথবা পিসি
Payment process
কীভাবে পেমেন্ট করবেন তা বিস্তারিত জানতে এই ভিডিওটি দেখুন
Student Hacks

Total Enrolled 41869

Time Required 10 hours

45 Videos

Validity 6 Months
2015 - 2023 Copyright © 10 Minute School. All rights reserved.