Course instructors

Mohammad Shahadat Hossain
Level-2 Freelancer, Fiverr
Founder, Graphic IT BD
What you will learn by doing the course
How to use Adobe Illustrator to create basic as well as professional T-shirt design

Easy ways to design vintage, custom T-shirt as per the client's preference T-shirt logo design and typography

Strategies to build a professional portfolio in freelancing marketplaces on T shirt design
Course details
Who is this T-Shirt Design course for?

Students, professionals, small and medium business owners, housewives and others who are interested in freelancing
Those who want to master a particular graphic designing skill and start working as a freelancer
Those who want to learn how to design T-shirts following proper guidelines and sell their custom t shirt designs in online and offline markets


About the T-Shirt Design course:

T-shirt designing is currently a relatively easy and popular way to enter the world of freelancing. But in most cases, despite being passionate, people cannot start working in this sector as they remain clueless on where to start and how to earn. The lack of expert advice in this field makes it even more difficult to get started in the world of T-shirt design. Thus, in order to help you learn all the techniques to become an expert in t shirt design, 10 Minute School brings to you the "T-Shirt Design করে Freelancing" course!

In this course, an industry expert will teach you all the tricks and techniques for creating trendy and vintage t-shirt designs as well as customized t-shirt designs using various tools in Adobe Illustrator. At the same time, you will also learn how to build a portfolio and attract clients in freelancing marketplaces and become a successful freelancer in the field of T-shirt design. You will be able to learn how to design a custom t-shirt for clients using various vintage designing tools, materials, and color palettes. So, why wait? Enroll in this course right away to start your freelancing career as a designer by learning T-shirt design!
Course certificate
কোর্সটি সফলভাবে শেষ করলে আপনার জন্য আছে সার্টিফিকেট যা আপনি-
আপনার সিভিতে যোগ করতে পারবেন

লিংকডইন প্রোফাইলে সরাসরি শেয়ার করতে পারবেন

ফেসবুকে এক ক্লিকেই শেয়ার করতে পারবেন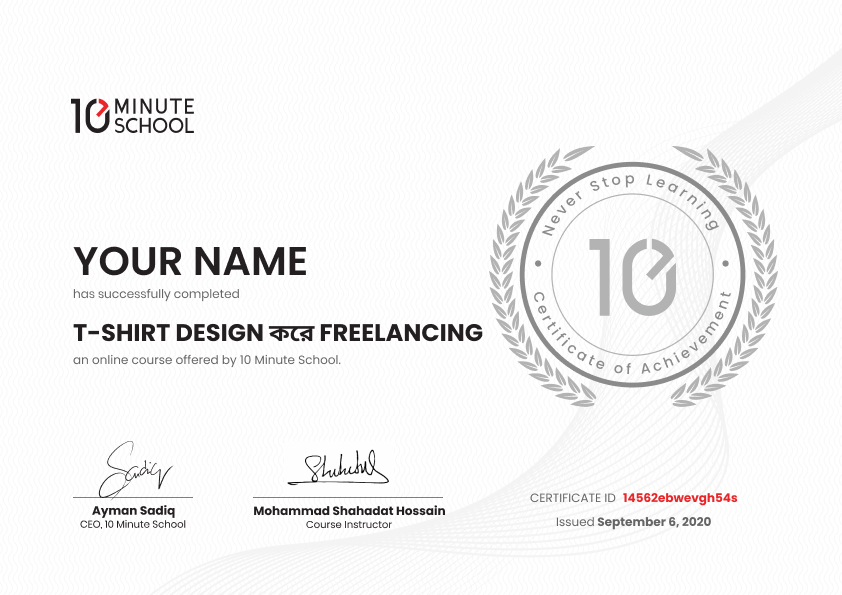 Course details
ইন্টারনেট সংযোগ (ওয়াইফাই বা মোবাইল ইন্টারনেট)

স্মার্টফোন অথবা পিসি
Payment process
কীভাবে পেমেন্ট করবেন তা বিস্তারিত জানতে এই ভিডিওটি দেখুন
T-Shirt Design করে Freelancing

Total Enrolled 1599

Time Required 25 hours

50 Videos

14 Lecture Sheets

2 set Quiz

6 Notes

Validity 6 Months