Logo design is a very demanding skill in freelancing marketplaces, and many are earning thousands of dollars practicing it. This course contains all the necessary guidelines from a top-rated freelancer to help you learn basic to professional logo design from scratch.
Course instructors

SM Anamul Hossain
Top Rated Plus Freelancer , Upwork
Founder, Freelance GURU
What you will learn by doing the course
Basic to professional logo design techniques using Adobe Illustrator.

How to design different types of logos, including monogram logos, combination logos, and abstract logos.

Strategies to build a professional portfolio in freelancing marketplaces on logo design and all the important freelancing techniques including how to get clients and how to transfer your earnings to your bank account.
Course details
This Logo Design Course is for:

Those who want to master a particular graphic designing skill easily and start earning from freelancing marketplaces
Those who want to avoid the complications and confusion associated with creative art and learn how to design creative logos
Those who want to learn how to work in freelancing marketplaces as a logo designer


About the Logo Design Course:

Logo design is one of the most demanding graphic designing skills in freelancing marketplaces. But in many cases, people hesitate to enter the design industry for fear of having to use expensive devices, as well as the complications of creative art. Aside from this, many are unaware if it is possible to earn a decent amount from logo design or how to use their creativity to design exclusive logos according to the client's satisfaction.

Thus, keeping all complicated theories aside, 10 Minute School brings you the "Logo Design করে Freelancing" course, which focuses on teaching you how to design logos in an easy-to-understand language using a standard computer.

In this course, an expert instructor will teach you how to use various Adobe Illustrator tools to design different types of logos from scratch. You will also learn how to create a profile in Upwork as a logo designer, get hired by clients, deliver your work, transfer your earnings to your bank account, and many other tips and tricks. So enroll in this course today to start your journey as a graphic designer and a freelancer!
Course certificate
কোর্সটি সফলভাবে শেষ করলে আপনার জন্য আছে সার্টিফিকেট যা আপনি-
আপনার সিভিতে যোগ করতে পারবেন

লিংকডইন প্রোফাইলে সরাসরি শেয়ার করতে পারবেন

ফেসবুকে এক ক্লিকেই শেয়ার করতে পারবেন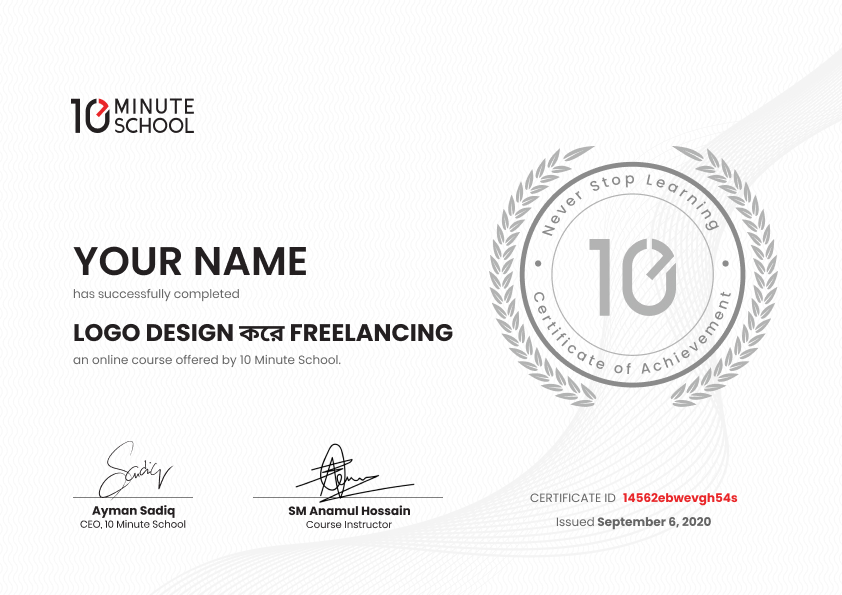 Course details
ইন্টারনেট সংযোগ (ওয়াইফাই বা মোবাইল ইন্টারনেট)

স্মার্টফোন অথবা পিসি
Payment process
কীভাবে পেমেন্ট করবেন তা বিস্তারিত জানতে এই ভিডিওটি দেখুন
Logo Design করে Freelancing

Total Enrolled 833

Time Required 5 hours

20 Videos

2 set Quiz

4 Notes

Validity 6 Months
2015 - 2023 Copyright © 10 Minute School. All rights reserved.