Since English is not our first language, it is natural that we often hesitate to use new words and speak publicly in English. To help you overcome such fear and hesitancy, 10 Minute School brings to you the "English Master Bundle" course.
Course instructor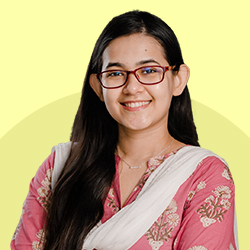 MSc (English), University of Oxford (UK);
BA, MA (English), University of Dhaka;
IELTS: 8.5

What you will learn by doing the course
How to speak fluently in English using appropriate vocabulary with colleagues, family, friends, and even strangers in daily life situations

How to overcome the hesitation and fear of speaking in English

How to smartly use unfamiliar English words in sentences while speaking

How to remember essential English words and use them while speaking, without having to memorize

Ways to use correct English words in interviews, presentations, viva-voce, client meetings, and other formal settings
Course details
This English Master Bundle course is for:

Those who are afraid of speaking English in public or feel hesitant about their Spoken English skills
Those who want to build self-confidence to speak fluent English
Those who want to present themselves smartly and more efficiently to friends, family, colleagues, and clients
Those who are good at writing English, but fail to grab the deserved attention for not having a strong foundation in vocabulary words.
Those who hesitate to use unfamiliar English words in conversations
Those who seek to learn new English words and use them in day-to-day conversations
About the English Master Bundle course:

To be able to fluently speak in English is an important skill in the current day and age. From academics, career, and studying abroad to even traveling abroad, spoken English skills help you stay ahead of the rest in every stage of life.

On the other hand, many of us know how to speak English correctly but are not confident enough, due to lackings of vocabulary. To reduce such hesitancy and help increase confidence, it is important to learn how to use appropriate words while speaking.

In order to help you overcome both of these difficulties, 10 Minute School brings to you the "English Master Bundle" course. Knowing the easy tricks to master spoken English and vocabulary through this bundle course will help you both in your academic as well as professional life.

This course bundle is designed to help students across all ages improve their spoken English skills as well as help build a strong foundation in English vocabulary. Munzereen Shahid, who studied "Applied Linguistics and Second Language Acquisition" at the Oxford University, will teach you how to speak English fluently in real-life situations. As the course instructor, she will help you overcome your fear of speaking English. Enroll in this bundle course today to improve your English skills!
Course certificates
কোর্সটি সফলভাবে শেষ করলে আপনার জন্য আছে সার্টিফিকেট যা আপনি-
আপনার সিভিতে যোগ করতে পারবেন

লিংকডইন প্রোফাইলে সরাসরি শেয়ার করতে পারবেন

ফেসবুকে এক ক্লিকেই শেয়ার করতে পারবেন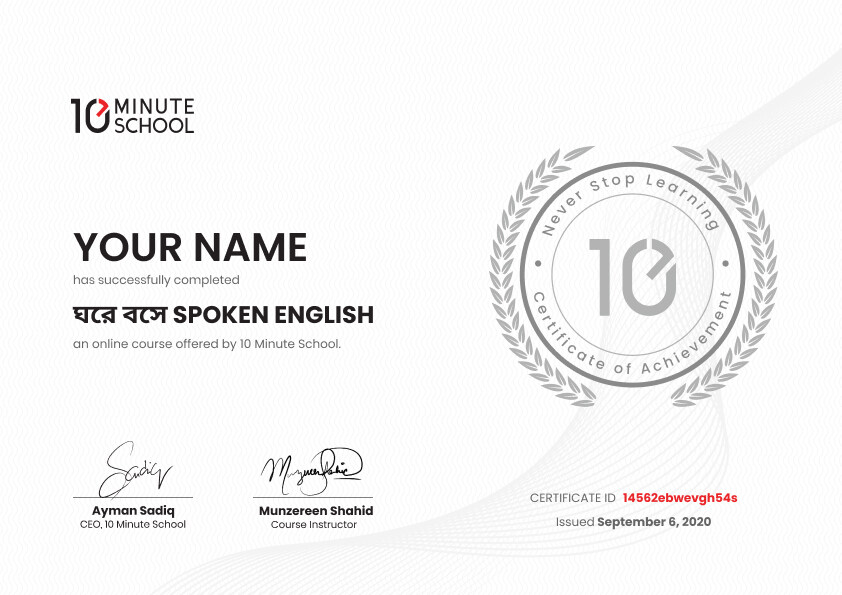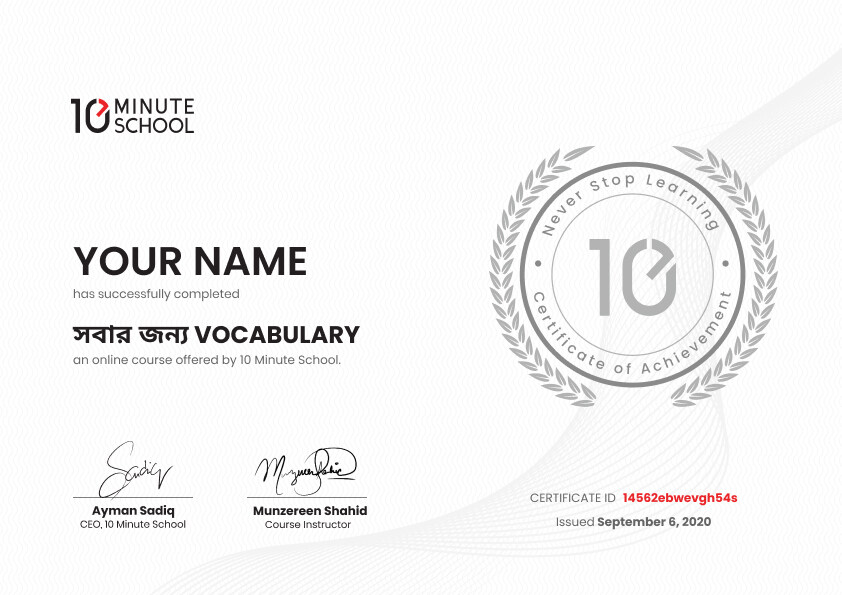 Course details
ইন্টারনেট সংযোগ (ওয়াইফাই বা মোবাইল ইন্টারনেট)

স্মার্টফোন অথবা পিসি
Payment process
কীভাবে পেমেন্ট করবেন তা বিস্তারিত জানতে এই ভিডিওটি দেখুন
English Master Bundle

Total Enrolled 3158

50 topics

130 Videos

69 set Quiz

70 Notes

630 Flashcards
2015 - 2023 Copyright © 10 Minute School. All rights reserved.