Become fluent in everyday English conversation with free classes. Enroll now in 'English for Everyday' course!
Course instructor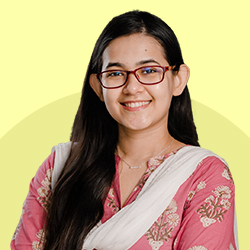 MSc (English), University of Oxford (UK);
BA, MA (English), University of Dhaka;
IELTS: 8.5

What you will learn by doing the course
How to speak fluently in English for everyday conversations

How to ask and answer questions in English

How to speak English in banks, job interviews etc

How to purchase bus, train or plane tickets in English
Course details
Who is this course for?

Those who want to speak English in their everyday lives
Those who want to become fluent and confident in English speaking
Those who want to smartly present themselves
Those who aim for a successful career with English language skills
About the course:

English is a language that will enable you to communicate with people around the world. Knowing how to speak in English is an essential skill for personal and professional development. If you are a beginner looking to learn English conversations for everyday situations, "English for Everyday" is the perfect course for you. Throughout the course, you will learn how to engage in basic conversations, ask and answer simple questions, order food, make appointments, and engage in small talk. You will also learn relevant vocabulary to support these conversations, building a strong foundation for your English language skills.

The course is instructed by Munzereen Shahid, a highly experienced English language instructor. She will teach you how to use easy English words and phrases to use in day to day conversations. You can also learn easy to remember vocabulary from her to make your English smarter. To become a confident English speaker in regular conversations, get free admission in the 'English for Everyday' course.
Course certificate
কোর্সটি সফলভাবে শেষ করলে আপনার জন্য আছে সার্টিফিকেট যা আপনি-
আপনার সিভিতে যোগ করতে পারবেন

লিংকডইন প্রোফাইলে সরাসরি শেয়ার করতে পারবেন

ফেসবুকে এক ক্লিকেই শেয়ার করতে পারবেন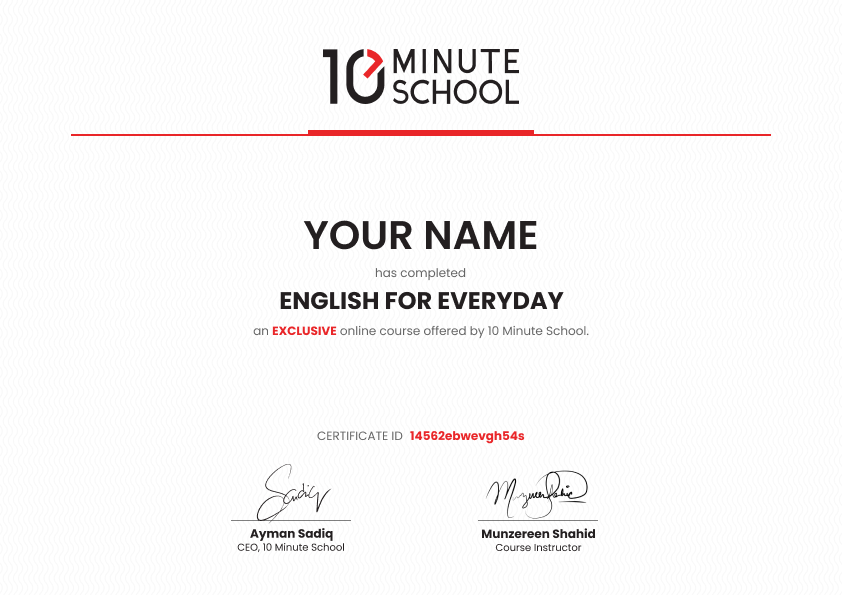 Course details
ইন্টারনেট সংযোগ (ওয়াইফাই বা মোবাইল ইন্টারনেট)

স্মার্টফোন অথবা পিসি
Payment process
কীভাবে পেমেন্ট করবেন তা বিস্তারিত জানতে এই ভিডিওটি দেখুন
English for Everyday

Total Enrolled 109247

Time Required 3 hours

25 Videos

Validity 6 Months
2015 - 2023 Copyright © 10 Minute School. All rights reserved.