Learn to speak fluent English. Become a confident English speaker in your everyday life. A complete spoken English course for learners of all levels & backgrounds.
Course instructor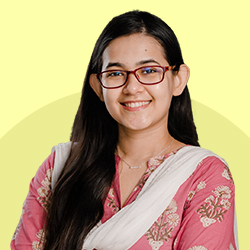 MSc (English), University of Oxford (UK);
BA, MA (English), University of Dhaka;
IELTS: 8.5

What you will learn by doing the course
How to speak fluently in English with family, friends and even strangers in daily life situations

Ways to overcome the hesitation and fear of speaking in English

The correct pronunciation of common English words

How to speak English in real-life situations and improve Spoken English skills
Course details
About the 'Ghore Boshe Spoken English' course:

Spoken English is an essential skill in the current world. Having sound Spoken English skills, one can stay ahead at different stages of life. Being well-skilled in Spoken English is extremely important in academics, career, competitive exams, higher education, and even traveling abroad.

Many are good at Spoken English but need more self-confidence to speak English in front of people. To help you improve your English speaking skills and build confidence, 10 Minute School has brought you the "ঘরে বসে Spoken English" course.

Munzereen Shahid, a graduate of Oxford University in English education, will teach you how to speak English fluently in real-life situations. The course has been conducted in Bangla to make it easy to understand. Most of the students of this course have rated this course as easy and beginner-friendly.

With some easy ways to learn Spoken English with real-life examples, you will be able to speak English without hesitation or stuttering and become self-confident in your Spoken English!
Who is this 'Ghore Boshe Spoken English' course for?:

Those who feel afraid to speak English in public or feel hesitant about their Spoken English skills
Those who want to know the correct pronunciation of English words used in daily life
Those who want to build self-confidence to speak fluent English
Those who want to communicate better in English
Those who want to present themselves smartly and more efficiently to friends, family, colleagues and clients
In this 'Ghore Boshe Spoken English' course, you will get:

Tips for making a conversation in English with real-life examples
Relevant notes with every video lecture
Unique vocabulary flashcard to learn new words


Course certificate
কোর্সটি সফলভাবে শেষ করলে আপনার জন্য আছে সার্টিফিকেট যা আপনি-
আপনার সিভিতে যোগ করতে পারবেন

লিংকডইন প্রোফাইলে সরাসরি শেয়ার করতে পারবেন

ফেসবুকে এক ক্লিকেই শেয়ার করতে পারবেন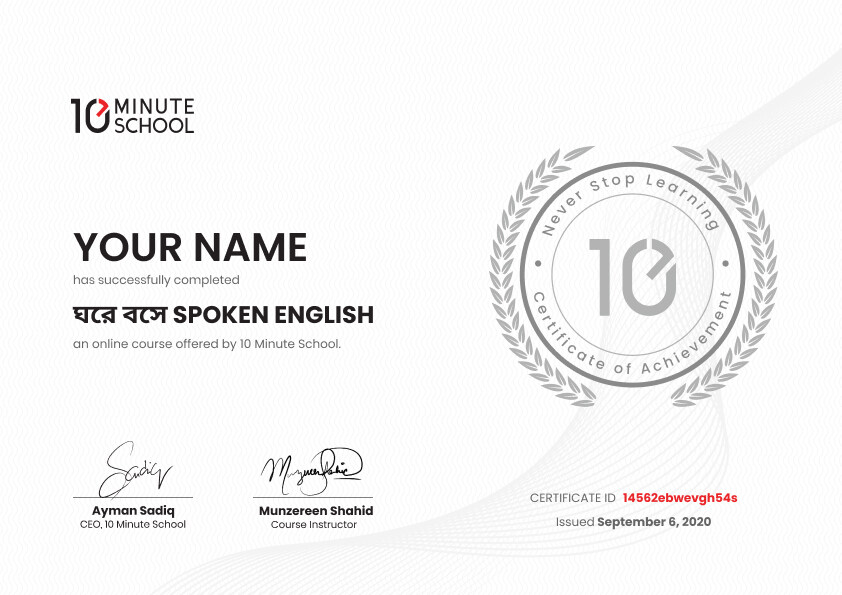 Course details
ইন্টারনেট সংযোগ (ওয়াইফাই বা মোবাইল ইন্টারনেট)

স্মার্টফোন অথবা পিসি
Payment process
কীভাবে পেমেন্ট করবেন তা বিস্তারিত জানতে এই ভিডিওটি দেখুন
Ghore Boshe Spoken English

Total Enrolled 172765

Time Required 20 hours

70 Videos

9 set Quiz

70 Notes

57 Flashcards

Validity 6 Months
2015 - 2023 Copyright © 10 Minute School. All rights reserved.