Learn CV writing format and a variety of interview questions and answers so you can start building your dream career with ease. Enroll in the free course "CV Writing & Interview" by Ayman Sadiq.
Course instructor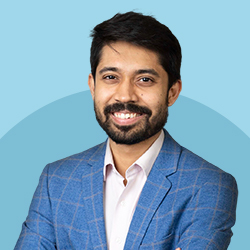 Founder & CEO, 10 Minute School
Forbes 30 Under 30;
Queen's Young Leader;
Bestselling Author
What you will learn by doing the course
Correct CV format and tactics to handle interviews well

Best possible ways to present your skills in CV writing and interview

Editing and making CVs according to the demand of the hiring professionals

The right way to prepare for an interview
Course details
Who is this 'CV Writing & Interview' course for?

Students or fresh graduates who want to learn professional cv writing
Those who are applying for jobs but are not being called for an interview
Those who are anxious about the interview phase of the recruitment
About the 'CV Writing & Interview' course

We often struggle to choose the correct CV format and make some common mistakes while CV writing. We do not usually have a clear idea about the do's and don'ts of professional cv writing. As a result, many times, we miss reasonable job offers. And we have no idea what we will be asked in the interview.

That is why 10 Minute School has introduced the "CV Writing & Interview" course. This course will help you create your CV and complete each job interview successfully. Enroll today and meet the first step towards your dream career with ease.
Course certificate
কোর্সটি সফলভাবে শেষ করলে আপনার জন্য আছে সার্টিফিকেট যা আপনি-
আপনার সিভিতে যোগ করতে পারবেন

লিংকডইন প্রোফাইলে সরাসরি শেয়ার করতে পারবেন

ফেসবুকে এক ক্লিকেই শেয়ার করতে পারবেন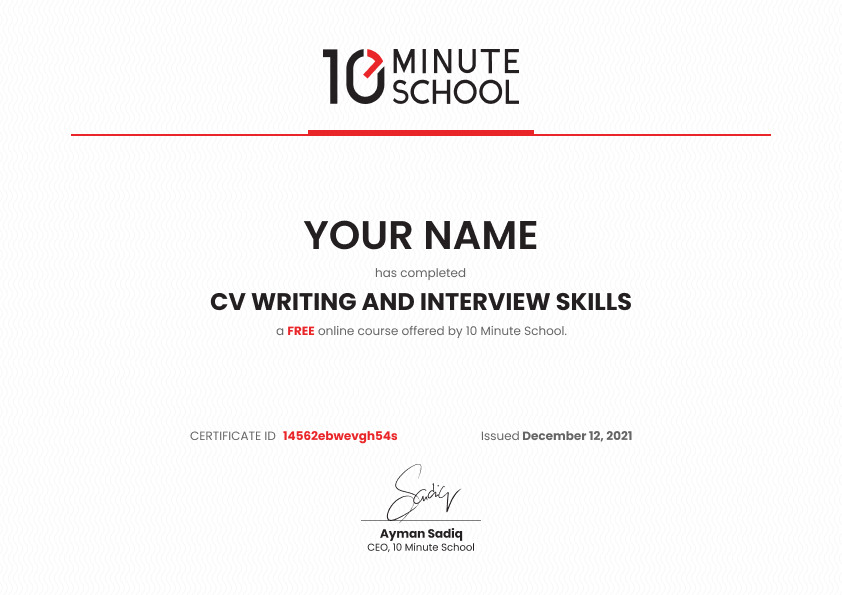 Course details
ইন্টারনেট সংযোগ (ওয়াইফাই বা মোবাইল ইন্টারনেট)

স্মার্টফোন অথবা পিসি
Payment process
কীভাবে পেমেন্ট করবেন তা বিস্তারিত জানতে এই ভিডিওটি দেখুন
CV Writing & Interview

Total Enrolled 96105

Time Required 2 hours

26 Videos

13 set Quiz

Validity 6 Months
2015 - 2023 Copyright © 10 Minute School. All rights reserved.