This is an English to Bangla vocabulary course that teaches you easy techniques to improve your English Vocabulary. A strong vocabulary helps you in academic tests and improves your English.
Course instructor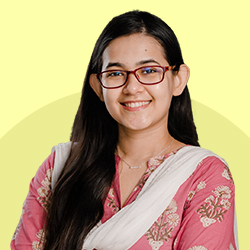 MSc (English), University of Oxford (UK);
BA, MA (English), University of Dhaka;
IELTS: 8.5

What you will learn by doing the course
How to build an extensive English vocabulary for yourself

The process of applying new words in sentences

How to reduce hesitancy and become fluent in English

How to remember unfamiliar English words using flashcards and following various tips and tricks
Course details
This Vocabulary course is for:

Those who seek to learn vocabulary words for GRE, IELTS, IBA Admission test and other competitive exams.
Those who are good at writing English, but fail to grab the deserved attention for not having a strong foundation in vocabulary words.
Those who seek to learn new English words and use them in day-to-day conversations.
Those who hesitate to use unfamiliar English words in conversations.


About the Vocabulary course:

Do you struggle to communicate in English because you don't know the correct words to use? Do you often worry about your vocabulary skills? Learn English vocabulary and become fluent by enrolling in Ten Minute School's 'Shobar Jonno Vocabulary' course now!

This course is designed for people of all age groups and professions who are looking to build a strong foundation in English vocabulary. Since we are not native English speakers, we usually struggle to find words during our conversations, speeches, or presentations if our vocabulary is weak. Thus, to improve your vocabulary, embark on a journey with Munzereen Shahid and become fluent today. Learn new words, enrich your vocabulary, and know how to use them in no time!
This Vocabulary course Includes:

Fast and easy methods of how to learn and remember English words.
Use of the newly learned words in day-to-day conversations.
Tips on how to speak English using correct English Words with more confidence.
Flashcards and quizzes that will ease your English learning curve.


Course certificate
কোর্সটি সফলভাবে শেষ করলে আপনার জন্য আছে সার্টিফিকেট যা আপনি-
আপনার সিভিতে যোগ করতে পারবেন

লিংকডইন প্রোফাইলে সরাসরি শেয়ার করতে পারবেন

ফেসবুকে এক ক্লিকেই শেয়ার করতে পারবেন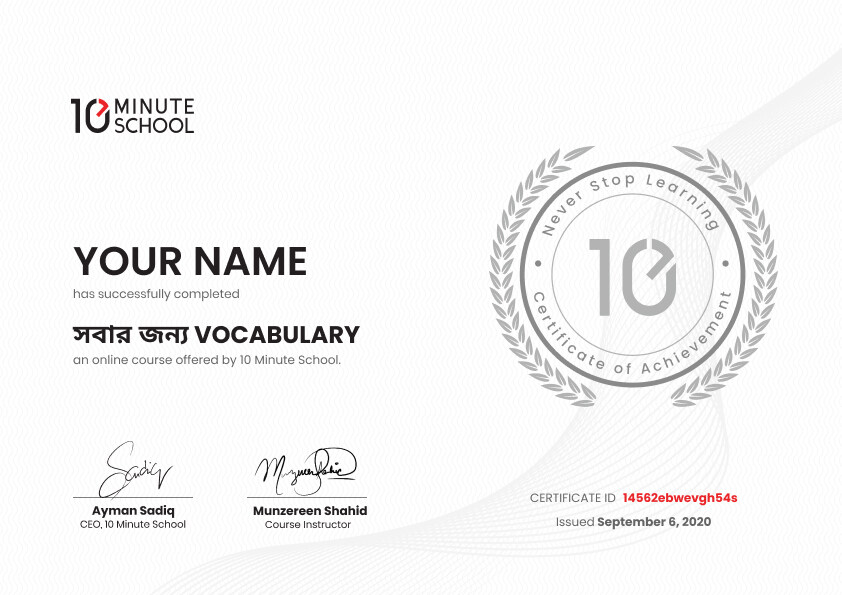 Course details
ইন্টারনেট সংযোগ (ওয়াইফাই বা মোবাইল ইন্টারনেট)

স্মার্টফোন অথবা পিসি
Payment process
কীভাবে পেমেন্ট করবেন তা বিস্তারিত জানতে এই ভিডিওটি দেখুন
সবার জন্য Vocabulary

Total Enrolled 7939

Time Required 30 hours

60 Videos

60 set Quiz

60 Flashcards

Validity 6 Months
2015 - 2023 Copyright © 10 Minute School. All rights reserved.