To ensure the best preparation for IELTS, it is necessary to have comprehensive guidelines. In addition to providing solutions to the previous year's IELTS Mock Test questions, our free course includes three complete mock tests with their respective solutions, all prepared following the guidelines of this examination!
Course instructor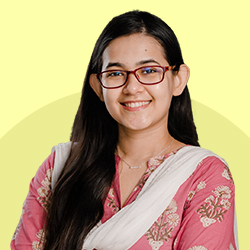 MSc (English), University of Oxford (UK);
BA, MA (English), University of Dhaka;
IELTS: 8.5

What you will learn by doing the course
How to evaluate your preparation for the Writing, Reading, Listening, and Speaking tests.

How to manage your time during the IELTS exam by practicing our IELTS online mock test.

How to identify your weaknesses in the different sections of IELTS.

Types of questions that appear in the different sections of the IELTS exam.
Course details
How will this IELTS Mock Test Solutions course help you

By taking several mock tests, a student will be able to understand the test format, solutions to the problems, and techniques to crack any question.
You will learn how to get good marks in the written part of IELTS.
Overcome the fear of the test and don't feel any stress regarding time management on the IELTS Mock test day by taking regular mock tests.
Practice makes a man perfect - so the more you practice mock tests, the better your chance of scoring high.
About the 'IELTS Mock Test Solutions' course:

Do you want to study abroad or migrate to a different country? If you plan to go abroad, you must have heard of the IELTS exam. Most countries require proof of English proficiency from students and immigrants coming from non-English speaking countries. There are several exams to prove your English proficiency, but IELTS is currently the most widely accepted one.

IELTS does not only assess a person's particular skill; it tests whether the person's overall communication skills are good enough to reside in an English-speaking country. Due to this, its structure and format differ greatly from conventional exams. It is quite hard to obtain the expected band score without understanding the nature and type of questions that appear in the IELTS Mock Test.

English proficiency is tested and checked in most countries, and there are various tests like IELTS to prove English proficiency. The IELTS test score demonstrates a person's proficiency in English and demonstrates that the person has a good grasp of communicative English skills, which is required to live in an English-speaking country. But the structure and format of the IELTS Test is not the same as any conventional test; rather, it is completely different. That's where IELTS mock tests come into play!

IELTS Mock tests are important to your IELTS preparation. It helps you understand what the real exam looks like and how to manage your time better. And to help you weld your preparation before the exam, Ten Minute School brings you the "IELTS Mock Test Solutions" course. In this course, you will find 3 sets of IELTS free mock tests with their solutions and effective methods to crack the different types of questions. So enroll in this course today to brush up on your IELTS preparation with our IELTS online mock test!
This 'IELTS Mock Test Solutions' Course Includes:

3 complete IELTS mock tests were prepared following appropriate guidelines, syllabus, and solution.
12 exercise files to help you get used to the type of questions that appear in the IELTS exam, along with the IELTS free mock test.
Tips to help you achieve your desired band score.
Course certificate
কোর্সটি সফলভাবে শেষ করলে আপনার জন্য আছে সার্টিফিকেট যা আপনি-
আপনার সিভিতে যোগ করতে পারবেন

লিংকডইন প্রোফাইলে সরাসরি শেয়ার করতে পারবেন

ফেসবুকে এক ক্লিকেই শেয়ার করতে পারবেন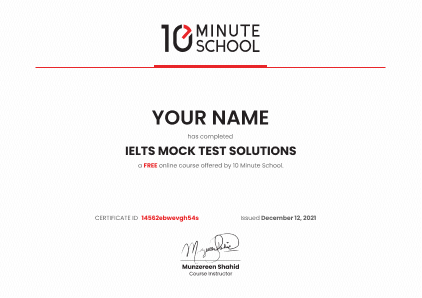 Course details
ইন্টারনেট সংযোগ (ওয়াইফাই বা মোবাইল ইন্টারনেট)

স্মার্টফোন অথবা পিসি
Payment process
কীভাবে পেমেন্ট করবেন তা বিস্তারিত জানতে এই ভিডিওটি দেখুন
IELTS Mock Test Solutions

Total Enrolled 49356

Time Required 12 hours

3 Complete Mock Test

12 Exercise File

Validity 6 Months
2015 - 2023 Copyright © 10 Minute School. All rights reserved.