Learn some fundamental rules of English grammar to improve your English skills. Learn prepositions, modifiers, parallelism, redundancy etc. important grammar topics.
Course instructor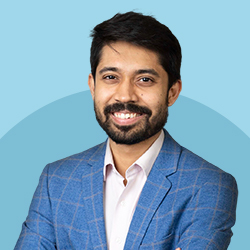 Founder & CEO, 10 Minute School
Forbes 30 Under 30;
Queen's Young Leader;
Bestselling Author
What you will learn by doing the course
The basic rules of English grammar and their application.

Explanation of prepositions, pronouns, comparison, subject-verb agreement, and other important basic grammar topics.

Strengthen your learning by practicing the exercises on the rules.

How to answer tricky grammar questions.
Course details
This course is for:

Those who are weak in basic English grammar.
Those who want to strengthen their English grammar knowledge.
Those who want to communicate better in English.


About the course

Many of us are fluent in written or spoken English but struggle when it comes to English grammar. Lack of proficiency in English will make it very difficult for you to survive in today's highly competitive world. It is very important for everyone to at least know the basic English grammar rules. Just as you have to build a strong foundation before building a house, you have to learn the basics of English grammar before mastering English.

To help you strengthen the foundation of your English grammar, 10 Minute School brings you the "English Grammar Fundamentals" course. This course, Ayman Sadiq will teach you the basics of various English grammar topics such as preposition, sentence, conditionals, appositives, count and noncount nouns, adjective, gerund, tense, subject-verb agreement, comparison, modifiers, parallelism, redundancy, etc. Learning these rules will help you in almost all competitive exams, including admission tests and job exams. So, enroll in this course right away!
Course certificate
কোর্সটি সফলভাবে শেষ করলে আপনার জন্য আছে সার্টিফিকেট যা আপনি-
আপনার সিভিতে যোগ করতে পারবেন

লিংকডইন প্রোফাইলে সরাসরি শেয়ার করতে পারবেন

ফেসবুকে এক ক্লিকেই শেয়ার করতে পারবেন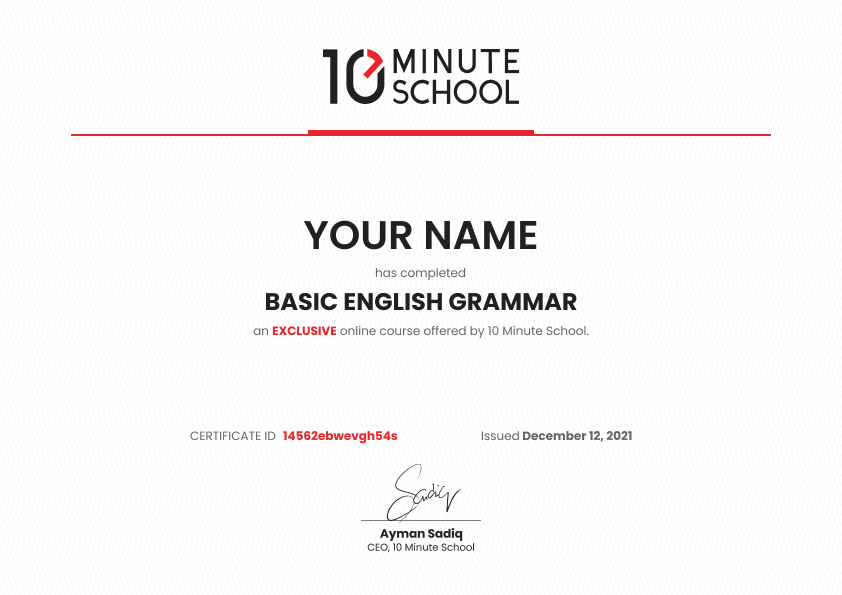 Course details
ইন্টারনেট সংযোগ (ওয়াইফাই বা মোবাইল ইন্টারনেট)

স্মার্টফোন অথবা পিসি
Payment process
কীভাবে পেমেন্ট করবেন তা বিস্তারিত জানতে এই ভিডিওটি দেখুন
English Grammar Fundamentals

Total Enrolled 68371

Time required 1 hour

57 Videos

Validity 6 Months
2015 - 2023 Copyright © 10 Minute School. All rights reserved.